Precious Metals & Oil ETF Trend Trading
Sunday April 18, 2010
Last week was exciting with broad market and gold forming an intraday reversal pattern after a long overbought rally, then broke down though short term key support levels. While this move lower was tough on the pocket book for those who chased the market up the past few days and/or were not moving their protective stops up, this move is good for the health of the market.
This pullback is actually a good thing for us active traders who wait for low risk setups and don't chase prices higher, but rather buy on the dips in a bull market when most of the risk has been flushed out already. Trading with low risk setups is not the most exciting type of trading because there are not a ton of setups but if one can be patient and wait for these plays it is a very profitable strategy in the long run.
Those traders who live and breathe the market focusing on trading intraday price action most likely made a small fortune last week with Fridays sell off in stocks and precious metals. You can see how some of us took advantage of this sharp pullback last week with my before and after videos: Gold Futures Trading Signals – http://www.futurestradingsignals.com/trading-education/friday-gold-sp500-market-meltdown-opportunity/
Below are the charts showing what I am currently thinking is going to happen for gold, silver, gold stocks and oil. I will be tracking the market with intraday charts to help pin-point a low risk entry point for a possible short or long position as the market unfolds this week.
GLD – Gold Trading ETF
The chart below is an updated chart which I have showed several times. It shows how gold corrected, bottomed and is now trending back up. This week I will be watched closely to be sure we take a position which has the highest probability of working in our favor if and when a low risk setup occurs.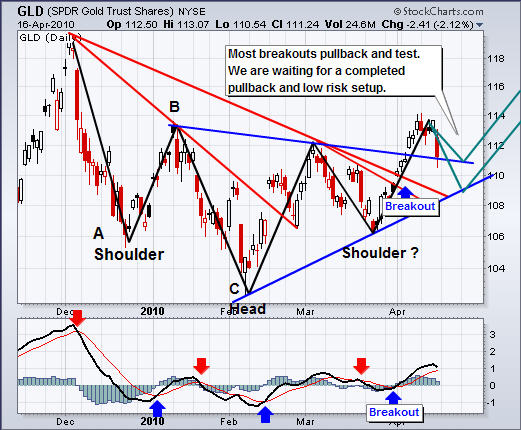 SLV – Silver Trading ETF
Silver really took a hit on Friday. It is now trading near support but there is not much we can do until we see what happens on Monday. There could be a bounce or more down side, tough to call right now…. And it's not something you want to be on the wrong side of.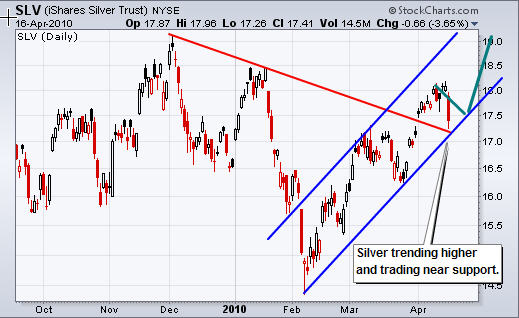 Gold Stocks – Gold Stock Trading
Gold stocks did not drop as much as I thought they would which indicates the market is still very bullish on gold. There is still potential for more downside… so I am letting the market unfold before doing anything.

USO – Oil Trading Fund
You can see oil moved down sharply on Friday and is now testing both a price support level and trendline support. Although this looks like a perfect setup, the market is designed to shake people out of positions before continuing the move. So it is likely for oil to dip which would break both these support levels triggering stop orders. Then the price should drop to the key support level where support should be found for at least a bounce or a new bottom.

Precious Metal & Oil ETF Trading Newsletter:
In short, the market had a nice correction on Friday and the heavy selling volume indicates that we are getting close to a larger correction which should provide two swing trades, a shorting opportunity and a new buying opportunity in the coming days, weeks or months depending how long the market takes with this pullback/correction.
If you would like to Receive My ETF Trading Signals please check out my service at: www.TheGoldAndOilGuy.com
Chris Vermeulen
http://www.thegoldandoilguy.com/wp-content/uploads/2014/11/tgaoglogo.png
0
0
admin
http://www.thegoldandoilguy.com/wp-content/uploads/2014/11/tgaoglogo.png
admin
2010-04-18 11:30:46
2014-03-10 09:30:18
Precious Metals & Oil ETF Trend Trading