Silver, Oil, SP500 & Gold Newsletter Charts
Gold Newsletter – April 21st, 2010
It's been, an interesting week as stocks and commodities claw their way back up after the end of week sell off on Friday. Most of the chart technical are pointing to another wave lower for gold, silver, oil and the broad market.
This next wave of selling would form an ABC retrace pattern on the commodity charts and this pattern is bullish. Also commodity prices would drop to key support levels which would most likely provide a low risk entry point depending on the price and volume action at that time. So lower price is good for the big picture which is higher prices.
The charts below are a quick visual of what I am seeing and thinking…
GLD – Gold Exchange Traded Fund Trading Chart
The gold etf trading fund is getting closer to completing is 4 month correction and start another rally if all goes well in the coming week or two. What I am looking for is gold to hit resistance at $113 and then drop to the $110 level which is a key support level.
SLV – Silver Exchange Traded Fund Trading Chart
SLV etf fund looks ready for a pullback also. Both gold and silver tend to move together and support would be tested here also.
USO – Oil Trading Fund Chart
USO shows that one more thrust down would bring prices to a key support level also.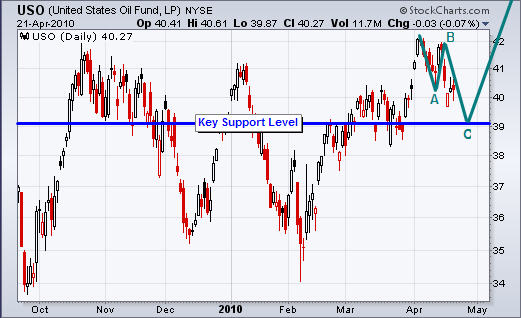 SPY – SP500 Exchange Traded Fund Trading Chart
Stocks have been on fire the past few months but this rally looks to be getting long in the teeth. After a rally this strong without any pullbacks one has to think that when a correction does start it will be a very sharp sell off. I will point out a few years ago we saw this exact type of price action for the broad market and it continued higher for several more months before actually putting in a large correction. If we don't see a large correction, then we would see similar price movement which we saw last November and December with the sideways choppy price action and slow rally higher. ActiveTradingPartners.com is a great place to get quality stock picks.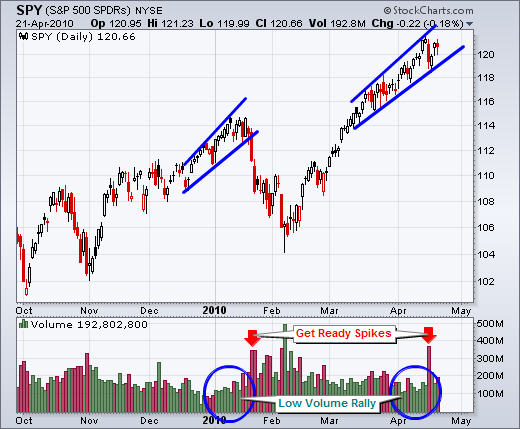 Mid-Week Market Update:
In short, I think the market is ready to finally take a breather. What I am looking for another sell off which will break the low for gold, silver, oil and SP500 last week. If this happens then panic would be triggered washing the market of all the traders who have been buying at these high levels (chasing prices).
Stocks have been very strong and new money continues to push prices higher so we could just see a relatively small pullback between 3-5% and then the rally could continue…. This would work very well with gold, silver and oil as they would be testing key support levels and should be ready for a another upward surge.
It doesn't really matter what the market does as there will always be great opportunities. Waiting for quality setups requires discipline and focus because it is not very active. I see traders making all kinds of silly trades which chip away at their profits because they cannot sit and watch when they should be.
During slow times I actually focus on learning more about the markets going through charts, inter-market analysis comparing things….. That kills a ton of time and helps make you a better trader in the long run. So if you don't see a good trade get out and do something fun or educational. Don't just start trading the 5 minute charts because you want to trade…
If you would like to receive my ETF Swing Trading Signals be sure to checkout my service: www.TheGoldAndOilGuy.com
Chris Vermeulen
Free Weekly Market Trading Chart Update:
http://www.thegoldandoilguy.com/wp-content/uploads/2014/11/tgaoglogo.png
0
0
admin
http://www.thegoldandoilguy.com/wp-content/uploads/2014/11/tgaoglogo.png
admin
2010-04-21 21:54:01
2014-03-10 09:29:48
Silver, Oil, SP500 & Gold Newsletter Charts