Yellow Gold Looks Strong Again…
The stock markets had a very solid session. Most charts shot higher after Apple beat estimates Tuesday night surging over 10%. This set the tone for stocks Wednesday. Also the FOMC said they would keep interest rates low until mid 2014 and projected a 2% inflation rate which took the market by surprise. Looking at the 10 minute intraday charts of gold, silver, oil, and the SP500 you would think it was the 4rth of July with everything shooting higher.
My gut feeling before the FOMC meeting was that there would be no QE3 announced. This I figured would trigger the dollar to rise which in turn would put pressure on stocks and commodities. But the low interest rates until mid 2014 was the wild card trumping that scenario.
Trading around FOMC meetings always brings a heightened level of uncertainty to traders and investors. The news is unpredictable making that much more of beast to try and out smart. I personally do not trade on any news because of the added risk involved.
Let's take a quick look at gold and silver…
The Weekly Gold Chart:
Gold has started to break out of its down trend and if it can hold up into Friday's close then it will be a very positive sign for the shiny metal. It is still mid week and a lot can happen, so let's see how it holds up and go from there.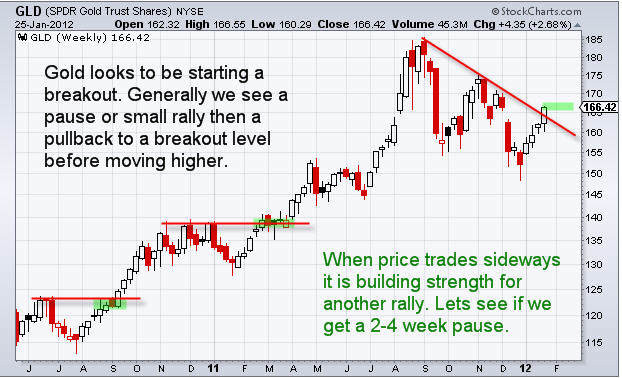 The Weekly Silver Chart:
Silver has some work to do before it's back in an uptrend on the weekly chart. I would not be surprised to see it catch up with gold and run toward the $35 resistance level in the next couple days.
Mid-Week Trend Conclusion:
In short, gold is on the move and in the next few weeks I figure we will be getting involved. Silver I think will unfold a little different from a chart pattern point of view, but I do feel there will be a buying opportunity soon also.
Looking more broad based we are seeing the stock market continue to make new highs with solid volume behind it while Crude oil continues to tread water.
Get my free weekly reports and videos here: www.GoldAndOilGuy.com
Chris Vermeulen

http://www.thegoldandoilguy.com/wp-content/uploads/2014/11/tgaoglogo.png
0
0
admin
http://www.thegoldandoilguy.com/wp-content/uploads/2014/11/tgaoglogo.png
admin
2012-01-25 22:50:25
2014-03-06 12:25:58
Yellow Gold Looks Strong Again…