SP500 & Gold At Crucial Pivot Points
Thursday Sept 2nd, 2010
Wednesday was a big session with better than expected manufacturing surging the market 3%. In this article I will do a quick technical take on the current situation for the SP500 and gold as they are both trading at a key resistance level. also its important to know what type of price action we will get in the next 1-2 days so you can have your profit targets or protective stops in place depending on which side of the market you are currently playing.
SPY – SP500 Exchange Traded Fund – 60 Minute Chart
The market is currently in a down trend which means bounces get sold. But if you take a look at the buying volume ratio at the bottom of the chart you will notice that in an uptrend buying surges are the beginning of a rally, and during a downtrend buying surges are the end of a rally. I also want to mention that a lot of volume traded at this current level which you can see on the volume by price bars on the chart. This means there will be a lot of sellers to overcome before breaking to the upside.
The situation the market is at now makes things difficult to tell if this bounce will get sold, or if its just the starting of a rally. There are several arguments for each side but the one which I think has the most influence is the buying volume. It was very strong on this current bounce. It feels more like a rally but we will not know for sure for a couple days…
That being said, if the SP500 moves up Thursday then I would consider the market to be in an uptrend and exiting any short positions is a smart play. But if this bounce is sold and the market drops, then the 3% rally on Wednesday could all be given back and then some.
GLD Gold Exchange Traded Fund – 60 Minute Chart
Gold has continued to grind its way up to the previous top. Problem is the volume has been very light and that tells me there is not much demand for gold at these elevated prices. While we are still long gold it is crucial to have your protective stop in place so we lock in as much profit as possible for when the sharp selling spike happens.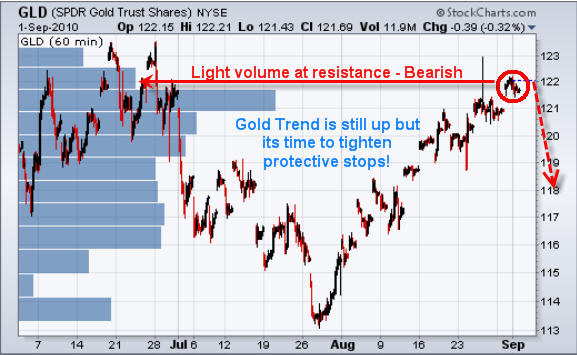 Mid-Week Technical Take:
In short, the market feels like its trying to reverse back up but at this time its still in a down trend and trading under a key resistance level. This means trading with the trend and selling the bounces is still the play. That being said today's strong volume makes this bounce suspect. Keeping positions small and setting a protective stop should be done as a safety precaution. The next couple days will shed some light for sure…
As for gold, I am still bullish but expecting our protective stops to be triggered any day now, which means we get paid and can mark another successful trade down on the scoreboard.
Chris Vermeulen
Get More Free Reports and Trade Ideas Here for Free: FREE SIGN-UP
http://www.thegoldandoilguy.com/wp-content/uploads/2014/11/tgaoglogo.png
0
0
admin
http://www.thegoldandoilguy.com/wp-content/uploads/2014/11/tgaoglogo.png
admin
2010-09-01 22:18:47
2014-03-10 06:42:31
SP500 & Gold At Crucial Pivot Points