SP500 Pierces, Bonds Rally, Dollars Fall Out the Window
Sept 23, 2010
It's been a wild ride the past few days. Now, thanks to comments from Obama and FOMC, it seems like everyone is waiting to see what the market will do from this pivotal point onward.
Since the market topped in April and has since been trading sideways in this rather large range, everyone has small positions at work but waiting for a decisive move before fully committing to one side. There could be a few opportunities in the coming days using bonds, the dollar and the SP500 if all goes well which I explain below.
Lets take a look at the charts…
SP500 – SPY ETF, Daily Chart
There has been a lot of talk about a sharp rally if the SP500 could break the 1130 level or the neckline everyone is talking about. Well this week Obama was on TV and the market rallied into that, then again after. I don't really thing investors or traders were buying things up as he said the same boring stuff he always says without anything new. I feel there could have been another force at work, which we can discus another time .
Anyways, the market pierced those resistance levels and I'm sure a ton of traders have switch their view on the market from bearish to bullish. While I prefer to trade with the trend I can't help but feel this market is still range bound, which is why I am still bearish at these shakeout levels. The SP500 did break resistance BUT the following candle did not close above the breakout candles high to confirm the move.
That said, the market is now trading back down at support and the next couple of days I'm sure will shed some like on the direction.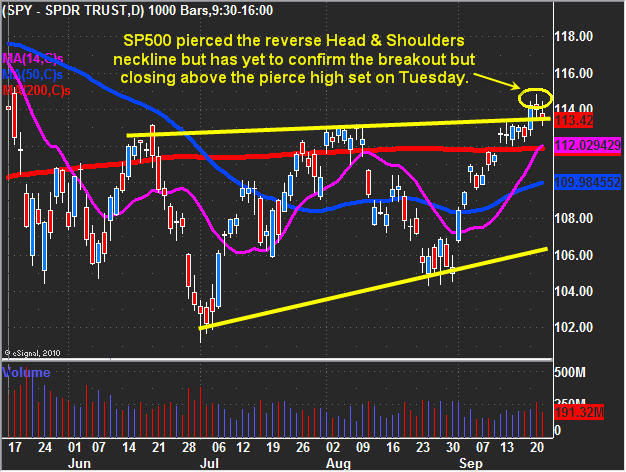 20 Year Bonds – TLT Fund, Daily Chart
We have seen the bond price pullback in a bull flag formation. It touched support before bouncing to break short term resistance as it looks to have started another rally. The chart below overlays both the candlesticks of the bond price and the SP500 which is the white line. You will notice they have an inverse relationship. If bond prices continue to rally then lower SP500 could start to rollover.
US Dollar – UUP Fund, Daily Chart
The dollar has fallen sharply the past 10 trading session and it looks to be oversold for a couple reasons. The past couple days the price has dropped straight down and gapped lower. This recent drop has reached a gap window which will act as support and could provide a tradable bounce in the coming days depending how things unfold.
Mid-Week Market Analysis Conclusion:
In short, the SP500 is flirting with resistance and has yet to confirm the breakout. Bond prices look to be headed higher which will makes me think equities could start to sell off any day now… It's also important to note that the big banks GS and JPM shares have been under pressure and they tend to lead the broad market. Another point to add is the fact the oil has not rallied even though the dollar dropped like a rock? What happens if the dollar bounces? Could oil finally start its next leg down?
Gold and silver continue their steady grind up. The price action reminds me of the 2009 Nov –Dec move. Once that train de-rails its going to have a sharp correction…
You can get my ETF and Commodity Trading Signals if you become a subscriber of my newsletter. These free reports will continue to come on a weekly basis; however, instead of covering 3-5 investments at a time, I'll be covering only 1. Newsletter subscribers will be getting more analysis that's actionable. I've also decided to add video analysis as it allows me toe get more into across to you quicker and is more educational, and I'll be covering more of the market to include currencies, bonds and sectors. Before everyone's emails were answered personally, but now my focus is on building a strong group of traders and they will receive direct personal responses regarding trade ideas and analysis going forward.
Let the volatility and volume return!
Chris Vermeulen
www.TheGoldAndOilGuy.com
Get More Free Reports and Trade Ideas Here for Free: FREE SIGN-UP
http://www.thegoldandoilguy.com/wp-content/uploads/2014/11/tgaoglogo.png
0
0
admin
http://www.thegoldandoilguy.com/wp-content/uploads/2014/11/tgaoglogo.png
admin
2010-09-22 22:28:30
2014-03-10 06:28:23
SP500 Pierces, Bonds Rally, Dollars Fall Out the Window