Stock Market Leaders Are Now Lagging?
Wednesday's session closed mixed on the day. The DOW posted a third of a percent gain while the tech sector closed down almost nine tenths of a percent. While technology stocks have been leading the market higher in the recent months, today they took the back seat while the DOW took control.
Take a look at the intraday chart of the SPY price action compared to the tech sector. It's clear the tech stocks where not in favor today. Some tech stocks that really took a beating today were FFIV, NTAP, APKT and AKAM.
On another note, we are entering earning season and I am wondering if we are going to see a "Sell the New" type of thing again.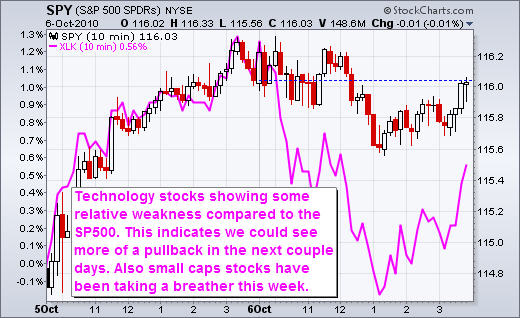 The broad market is experiencing a 36 day down cycle which has played a very dominant roll in the market this year. It topped out 9 days ago so we should expect sideways chop or some selling over the next 9 trading session. Because the market is trending up, pullbacks should be shallow.
The market continues to grind its way higher on relatively light volume. I have been waiting several weeks now for the volume to come back into the market but its just not happening. The majority of shares being traded are from banks, funds and day traders as the average investor's not taking part because of the uncertainty looming. The lack of volume (commitment) to the market from the masses is making the market internals swing from one extreme to another on virtually weekly basis making it more difficult to take advantage of short term extreme sentiment levels.
The current market environment has traders shifting gears to more of a momentum trading strategy to take advantage of trends and this is what I am going to start implementing again as the market expands.
Market Conclusion:
In short, the equities market is in an up trend but looks to be overbought. Also with the downward cycle I don't think the market will expand here and take off. Rather it will most likely chop around and burn off time until some earnings are released and the cycle bottoms. Unless we get a really sharp reversal down which we have yet to see on the SP500 or DOW, nibbling on small long positions or staying in cash is what I am doing right now.
As for gold, silver, the dollar and oil… Well the dollar continues to lose value on a daily basis which in turn is boosting metals along with crude oil. All four of those investments are over extended but they are trending and not really looking like they want to reverse just yet.
Chris Vermeulen
www.TheGoldAndOilGuy.com
Get More Free Reports and Trade Ideas Here for Free: FREE SIGN-UP
http://www.thegoldandoilguy.com/wp-content/uploads/2014/11/tgaoglogo.png
0
0
admin
http://www.thegoldandoilguy.com/wp-content/uploads/2014/11/tgaoglogo.png
admin
2010-10-06 23:41:04
2014-03-10 06:16:06
Stock Market Leaders Are Now Lagging?