Commodity & Index ETF Trading Strategy
May 9, 2010
As we all know, last weeks stock market blip/mini crash was very emotional for those of you watching or trading it live. A lot of money changed hands last week and you either lost a bundle or made a bundle…
I did send out some charts and a video on Thursday night about the market crash/recovery if you have not seen it. It's called "Stock Market Micro Intraday Crash Shows Us Where The Safe Havens Are".
Below are my ETF charts for the commodities and index I actively follow and trade.
GLD – Gold Bullion ETF – Daily Chart
GLD is a great ETF to trade as it generates 10-20 quality low risk setups each year for subscribers. The chart clearly shows the large rally in late 2009 and the correction as it formed patterns moving from a down trend – base – and back to an uptrend.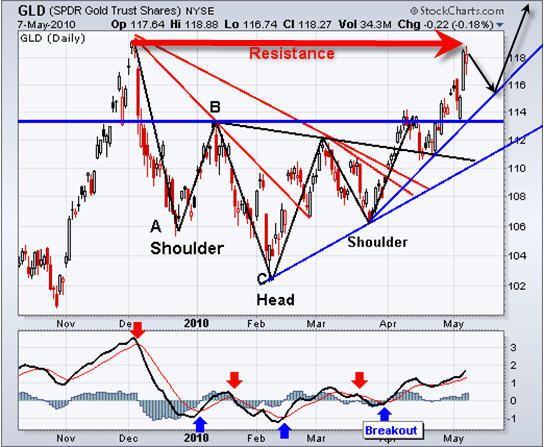 $USD – US Dollar Index – Monthly Chart
This weekly chart I think shows some serious potential for gold and silver prices. The US Dollar is now trading at a key resistance level which I think it will have a tough time moving higher. The dollar has been moving up for several months and looks ready for a pullback or at least a pause. If the dollar starts to roll over in the next few months then we should see gold and silver move substantially higher.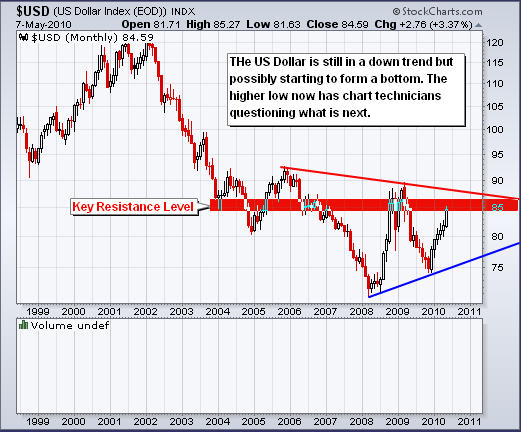 SLV – Silver Bullion ETF – Daily Chart
Silver like gold bounced off a key support level last week as investors started to buy silver as a safe haven. Gold moved up sharply on the day of the intraday market crash while silver traded sideways for a day before joining the party. The following day investors starting buying up silver because it was lagging its big sister "yellow Gold".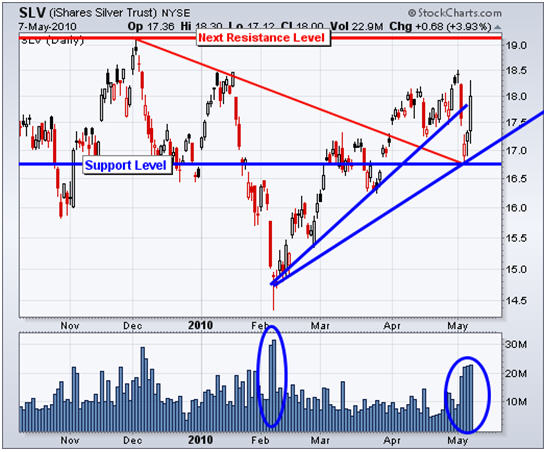 USO – Oil Fund – Daily Chart
Several weeks back I posted this chart showing how volume was drying up as oil tested resistance on declining volume. This indicated to us that once/if the price started to roll over it would trigger a sharp sell off as short term traders who bought in anticipation of a breakout to the up side sold out of their positions once support was broken. This is what caused the heavy volume and sharp price drop.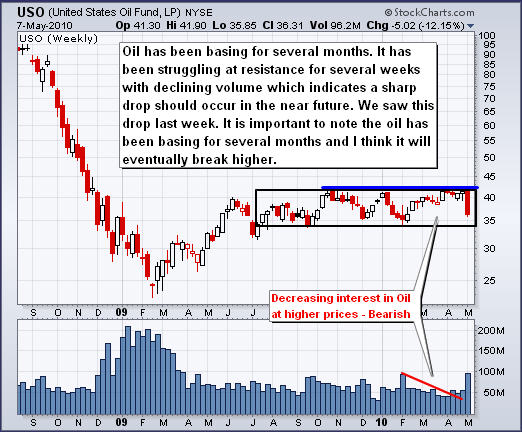 SPY – SP500 INDEX Trading ETF – Daily Chart
It's tougher now to read the index charts as last weeks heavy volume market crash could be seen in two very different ways…
One – We are starting a correction and had a jump start with the human error of selling billions of dollars worth of investments instead of millions prematurely pushing pulling the market down to a level where I think it should/will test again before moving up.
OR
Two – This extremely heavy sell off is just the start of what is to come…
Since the government owns the largest banks and the banks are unloading/selling massive amounts of shares calling it an error how do we know it's not a scam for them to completely short the market in anticipation for a collapse which would make them unheard of amounts of money as the market drops… It is tough to trust anyone sitting up there in those power positions after everything they have been caught for already…
I personally think we could see lower prices in the coming month then the market will bottom and we will see new highs for 2010.
Weekend Commodity & Index ETF Trading Strategy Conclusion:
Stepping back and looking at the above charts it looks as thought we could see stocks and commodities digest the recent moves. In short, gold and silver have rallied strong and now trading near resistance. Oil dropped last week and is now trading near a key support level. I feel it the market will trade sideways and stabilize before for a while as the SP500 had that crazy drop last week and now the market is in shock. I figured it would see 3-4 weeks to reach those prices yet it happened in 1 day so now the market could do very little for 3-4 weeks…
The US dollar is something we will be watching more closely because it's trading at key resistance level. In the past it has taken a month or two for a rally to roll over and head back down. This could play out very nicely if the dollar tops and the rest of the market trends sideways to digest the recent moves. Once the dollar starts to fall it will provide fuel for the next rally in both stocks and commodities.
If you would like to receive my ETF Trading Strategy and Trading Signals Please check out my website: www.TheTechnicalTraders.com
Chris Vermeulen
http://www.thegoldandoilguy.com/wp-content/uploads/2014/11/tgaoglogo.png
0
0
admin
http://www.thegoldandoilguy.com/wp-content/uploads/2014/11/tgaoglogo.png
admin
2010-05-09 21:58:21
2014-03-10 08:56:49
Commodity & Index ETF Trading Strategy