The Precious Metals MAJOR Breakout Part II
It has been a year since the price of gold bullion topped out and even longer for silver. Many traders and investors have been patiently waiting for this long term consolidation pattern to breakout and trigger the rally for precious metals and miner stocks. Most of gold bullion is used for investment purposes.  As a result, it rises when there is economic weakness and investors lose confidence in the fiat currency of a country.
With continuing economic weakness in the United States it will almost certainly lead the Federal Reserve to act in way that is more powerful than Operation Twist which is the selling of short term securities to buy those with a longer term.   Based on the most recent data, economic growth in the United States is falling as the unemployment rate rises.  A recent statement by the Federal Reserve was unusually clear in calling for greater action in the future.
Gold, Silver and Dollar Weekly Price Chart:
Take a look at the weekly charts below which compare gold and silver to the US Dollar index. You will notice how major resistance for metals lines up with major support for the dollar. As this time metals are still in consolidation mode (down trend) and the dollar is in an uptrend.
Gold Miners ETF Weekly Chart:
Gold miners have been under pressure for a long time and while they make money they have refused to boost dividends. That being said I feel the time is coming where gold miner companies breakout and rally then start to raise dividends in shortly after to really get share prices higher.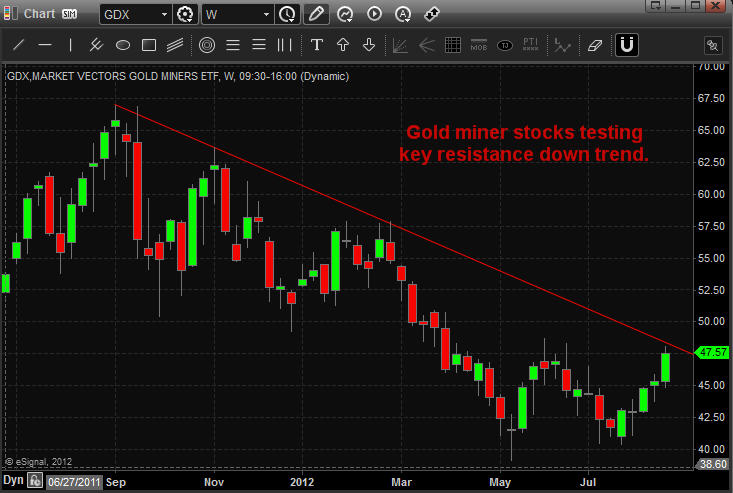 On August 13th I talked about the characteristic's and how to trade the next precious metals breakout and where your money should be for the first half of the rally and where it should rotate into for the second half. Doing this could double you're returns. Read Part I: http://www.thegoldandoilguy.com/gold-mining-stocks-continue-to-disappoint-but-not-for-long/
Overall I feel a rally is nearing in metals that will lead to major gains. It may start this week or it still could be a couple months down the road. But when it happens there should be some solid profits to be had. I continue to keep my eye on this sector for when they technically breakout and start an uptrend.
If you would like to get my weekly analysis on precious metals and the board market be sure to join my free newsletter at www.TheGoldAndOilGuy.com
Chris Vermeulen
http://www.thegoldandoilguy.com/wp-content/uploads/2014/11/tgaoglogo.png
0
0
admin
http://www.thegoldandoilguy.com/wp-content/uploads/2014/11/tgaoglogo.png
admin
2012-08-27 08:57:59
2014-03-06 07:32:17
The Precious Metals MAJOR Breakout Part II