Parabolic Moves are Only Temporary for Silver and Gold
The past few weeks we have been seeing the US Dollar slide to new lows at an increasing rate. The strong devaluation of the dollar has sent precious metals like silver and gold rocketing higher out of control sending them parabolic!
During the past 6 weeks both silver and gold have been rising in a parabolic formation. Meaning the price is going straight up with strong volume as everyone gets greedy and buys into the commodities at the same time. Most of you who follow my work already know that if the general public is piling into an investment rocketing prices higher, you better start focusing on tightening your protective stops and or taking some profits off the table before the price collapses.
Take a look at the weekly chart of Silver below:
Silver was grinding its way higher from July into March of this year. Only in the past 6-7 weeks did we start to see silver open up and run with expanding candles growing at an accelerated rate. This virtually straight up rally is a signature pattern and tells me that price action is now VERY unpredictable and anyone getting involved should be tightening their stops and or taking partial profits on price surges.
Parabolic moves can provide some big gains but most traders end of giving it all back and then some because the price can drop very abruptly as seen on this chart.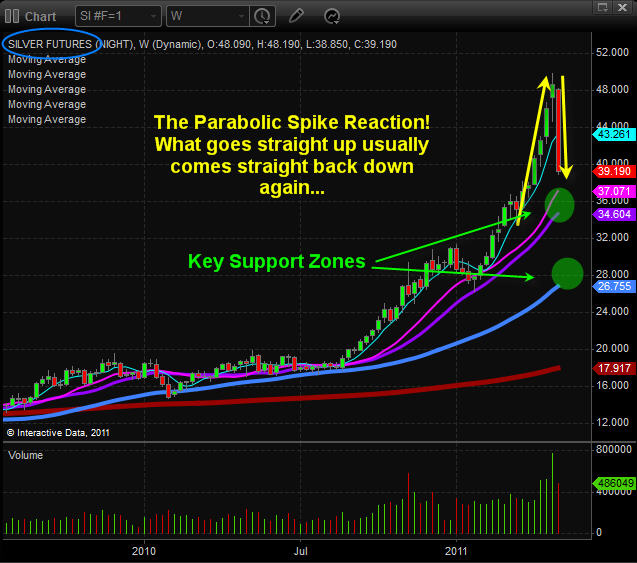 The weekly chart of gold below shows much of the same thing but without the extreme volatility that silver has.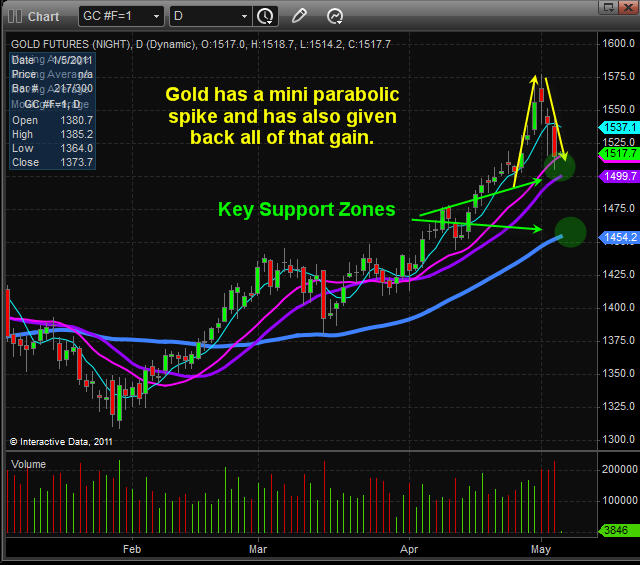 Now, if you take a look at the US Dollar chart it's starting to look very bullish in my opinion. The chart shows a falling wedge which typically means the selling pressure should be coming to an end soon. I'm not sure how large the bounce/rally will be. I do think a quick move to the 75 level is very likely in the near future though.
I find that metals tend to turn just before the dollar does. So I'm very cautious here on buying any stocks or commodities at the moment. The past 2 years we have seen stocks and commodities have an inverse relationship with the dollar so a rising dollar means a market pullback will take place. Sell in May and Go Away…?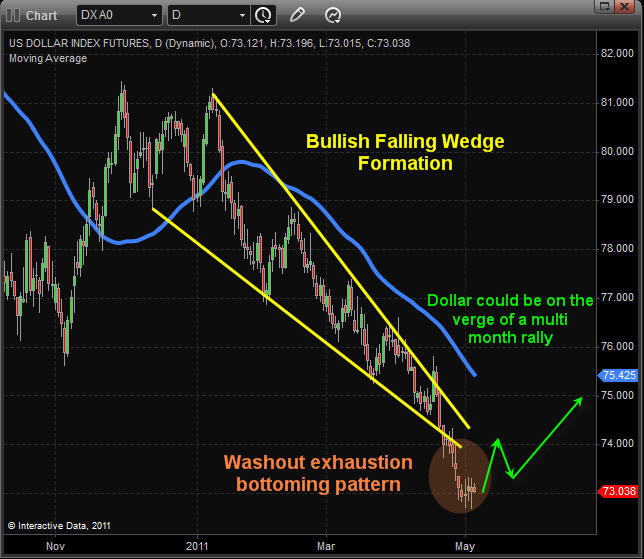 Mid-Week Trading Conclusion:
In short, we exited our SP500 position this week for a nice 6% gain in a couple weeks making that our third profitable back to back index play. At this time I'm not ready to buy or short the market until all the charts line up for another low risk entry point. Things are 50/50 odds here and that's not good enough for me.
That's it for now, but remember you can get my free trading reports each week at: http://www.thegoldandoilguy.com/trade-money-emotions.php
Chris Vermeulen
http://www.thegoldandoilguy.com/wp-content/uploads/2014/11/tgaoglogo.png
0
0
admin
http://www.thegoldandoilguy.com/wp-content/uploads/2014/11/tgaoglogo.png
admin
2011-05-04 22:48:18
2014-03-10 06:33:04
Parabolic Moves are Only Temporary for Silver and Gold