Mid-Week Dollar, Gold & SP500 Trend Trading
It has been a roller coaster week thus far as stocks and precious metals plunged on heavy selling volume on the back of a rising dollar, only to make a strong rebound Wednesday. While there has been significant intraday price movement, it was no surprise to us as we have been anticipating this pullback since discussing it in my Sunday Gold Newsletter.
Let's take a quick look at the charts…
US Dollar Daily Trading Chart
The past couple weeks the dollar has traded in a choppy fashion, and last week I mentioned to subscribers to keep any new positions small. The dollar looked ready to make a bounce and if it reverses we will see stocks and commodities correct rather sharply.
Last week we trimmed some profits on our gold and SP500 trading positions in anticipation of a rising dollar/lower equity and metals prices. The dollar is currently in a down trend so we are still trading with the trend, but the next couple sessions could potentially change that.
As you can see on the chart a similar pattern to what we saw during the May/June top earlier this year has now formed in reverse this month. It's a simple pattern I call a drop-n-wash. It is like dropping a knife – you panic, then take action (move foot, then wash the kife). That is typically how the market reacts to this type of price pattern after an extended trend has taking place for a long period of time.
The dollar made an obvious breakdown which the entire world witnessed, causing traders who recently went long to panic and sell their positions. Those who like to short the dollar would have taken a short position, only to see the market reverse and head straight back up again. This pattern has yet to confirm, but through the use of the shorter time frame charts (5 Min, 10 Min, 30 Min), I have a feeling the dollar may continue to rise. However, until the dollar shows considerable strength I am still playing the long equities / long gold side of the equation.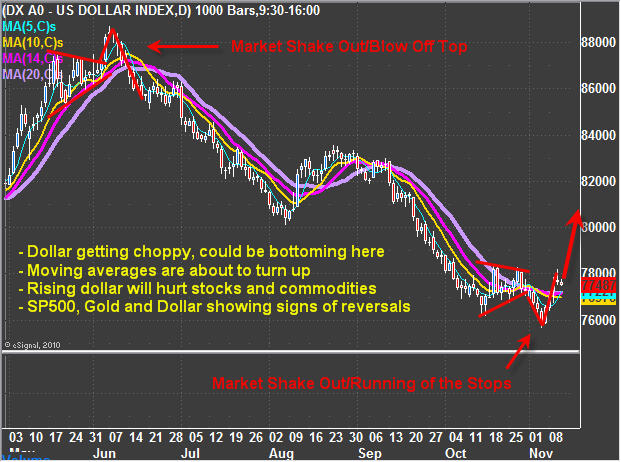 SPY – SP500 ETF Trading Fund
The SP500 made a nice move up last week and we trimmed our position back to lock in more gains as I anticipated this pullback and possible gap fill. As you can see on the chart the moving averages are all heading up and that's the direction we are still focusing on playing (buying dips).
The morning dip on Wednesday the market sentiment started to shift to become extremely bearish on the short term time frame (10 minute charts). If the market drops down to fill the rest of that gap, I have a feeling the majority of traders will panic out of their position giving us an extreme sentiment buy signal. Also a gap fill will bring the price down to the key moving averages which will act as a support level. I will notify members to add more to my SP500 long position if that happens.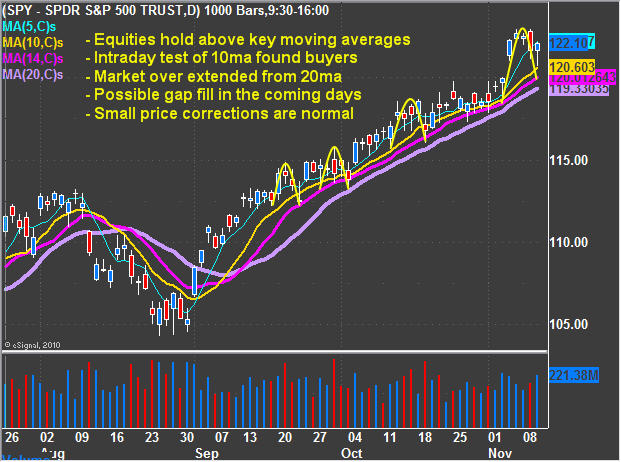 GLD – Gold ETF Trading Fund
Gold has much of the same story as the SP500 but with a couple twists. Gold has huge global demand from banks, investors and traders adding more buying power to this investment than stocks right now. We could see gold hold up above its gap that formed last week. That being said, a pullback to the key moving averages would not only act as a major support level but also fill the gap. We currently have our long positions, but trimmed some profits near the highs and are sitting tight letting the market work it's self out.
My trading partner J.W. Jones posted a great gold play yesterday which had a nice payout already. Read about his gold options trade here.
Mid-Week ETF Trading Conclusion:
In short, the focus should be kept on trading with the underlying trends until a trend change has been confirmed. So that means short the dollar, long equities, metals and oil.
That being said, because things are starting to look unstable it is crucial to trade smaller position sizes during times of uncertainty like this. Anticipating major market tops is very difficult and generally costly play, just ask everyone who has been trying to pick a top for the past 2 months… Anticipate trend changes, but don't trade them until the price/volume action confirms the new trend.
Get My Daily Pre-Market Trading Videos, Daily Updates & Trade Alerts Here: www.GoldAndOilGuy.com
Chris Vermeulen
http://www.thegoldandoilguy.com/wp-content/uploads/2014/11/tgaoglogo.png
0
0
admin
http://www.thegoldandoilguy.com/wp-content/uploads/2014/11/tgaoglogo.png
admin
2010-11-10 23:24:47
2014-03-10 08:52:15
Mid-Week Dollar, Gold & SP500 Trend Trading