Good Morning,
I wanted to publish today's video cause there is a lot going on. It's going to be WILD so hold on to your hat!
Economic news was terrible and everyone is talking about a recession the past two days and with today's data its clear we are in one or darn close. I'm sure there is some regulation that Obama made that says no one can use the word "Recession". They will think of a new word for this.
If you are still short the SP500 like I am it would be wise to take a partial profits this morning or exit your position to lock in the gains. The market typically moves in certain percentage waves and we have just reach an extreme level where bounce may take place. We have made the easy money on this one and will be more than happy to reload at higher prices. We are up over 6% in 3 days.
Anyways, the video shows what has unfolded this morning and what my thoughts are going forward.
Morning Market Analysis Points:
–    Economic News was all TERRIBLE
–    Money is moving into gold and gold miners
–    Silver is trading slightly higher but gold is key safe haven.
–    The dollar is higher but not at much as one may think. The data today was on the USA so it's not that bullish for the dollar but money is still coming out of equities and going into the dollar.
–    Bonds are up over 1.5% rocketing higher and almost reaching our measured move goal.
–    Oil is down 3.3%, Nat Gas is down 2.8% both starting to get close to major support.
–    SP500 was down over 2% but is starting to bounce and now down 1.8%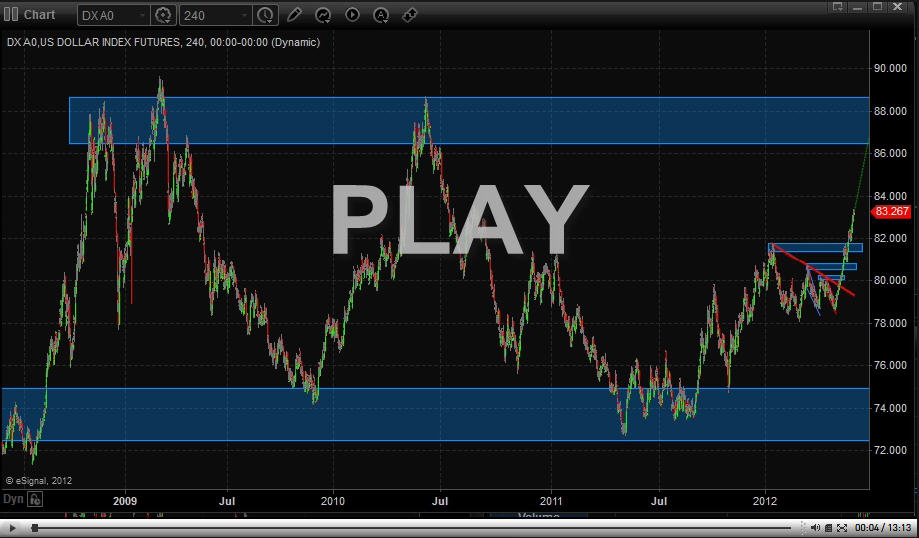 .
I also wanted to mention that on Sunday we close down our 30 day trial to our trading and investing video newsletter so if you want to know what is happening in the market and where your money should be each day/week then join our service. You get both Chris Vermeulen's and JW Jones' trading videos valued at $155 per month to test drive for a buck, then only $19.99 a month –
www.TradersVideoPlaybook.com
.
Chris Vermeulen
http://www.thegoldandoilguy.com/wp-content/uploads/2014/11/tgaoglogo.png
0
0
admin
http://www.thegoldandoilguy.com/wp-content/uploads/2014/11/tgaoglogo.png
admin
2012-06-01 10:35:47
2014-03-06 11:45:53
My Video Analysis of Today's Market Meltdown and What is Next!