Holiday Short Squeeze & Oil Trade Idea
Typically, the week before Christmas, stocks and commodities drift higher due to the lack of participants.  Light volume favours higher prices, which is why stocks want to rise going into the holiday season.
The big money players, like hedge fund managers, are finished for the year.  They're sitting on the sidelines enjoying the holiday season while waiting for their year-end bonus checks.
Let's take a quick look at how the week finished…
Friday was an interesting session as stocks and oil reached some key resistance levels.  Below are my thoughts, charts, and a possible trade idea for next week.
Gold & Silver Thoughts:
Looking at the long term charts of gold and silver, I feel they could head much lower in the first quarter of 2012.  The inverse relationship between the dollar index and gold makes me think this is a high probability scenario.
The weekly dollar index chart remains strong at this point and could start another very strong rally any day. Once the dollar starts heading higher, expect precious metals to move down along with equities.
SP500, Dollar and Volatility Index
Below are three charts stacked on top of each other.  They are marked with my analysis and thoughts for next week.  Personally, I don't feel shorting stocks is a safe play.  The last week of the year, we can see the volatility index (VIX), and the dollar, rise without putting pressure on stocks.  So be aware of that.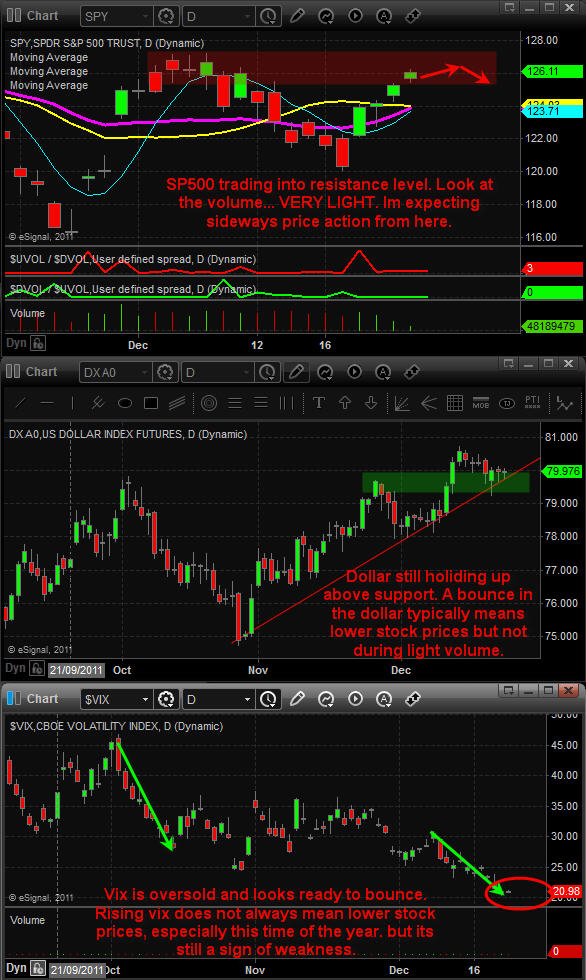 TRADE IDEA – View Chart:
Crude oil looks like a great low risk opportunity (a real "Christmas" present!) from Mr. Market. SCO would be the ETF for US based traders.  HOD, which is listed on the TSX, is good for Canadians.  I favour this setup because I don't feel that oil will be as affected from the holiday bulge as will American equities.
Pre-Holiday Trading Conclusion:
I was planning on avoiding the market Friday, but the charts were calling my name…  The session ended with what looked to be a short squeeze. The remaining short positions didn't get their expected drop in price.  Consequently, when the traders all started to cover their shorts (buy) just before the close, it caused a strong surge higher.
I do not recommend shorting stocks next week because of the light volume.  However, oil looks good to me.
Just thought I would share my end of the week thoughts, and wish you a Merry Christmas!
Cheers!
Chris Vermeulen
http://www.thegoldandoilguy.com/wp-content/uploads/2014/11/tgaoglogo.png
0
0
admin
http://www.thegoldandoilguy.com/wp-content/uploads/2014/11/tgaoglogo.png
admin
2011-12-23 19:27:17
2014-03-06 12:40:33
Holiday Short Squeeze & Oil Trade Idea