Equities Fight to Hold Up While EU & US Data Give Mixed Signals
Investors and traders just can't seem to catch a break when it comes to economic news. For example Tuesday in the United States we saw strong ISM manufacturing numbers which surprised the market. The numbers were way above expectations and it triggered a feeding frenzy in US based investments like stocks and the green back.
The following session Italy reported terrible PMI and unemployment rate numbers which took most of the wind out the European and US stocks. One day the data is great, next day it's bad…
The strong numbers in the US have everyone including myself thinking that this week's jobless claims (unemployment rate) will be down. If this is the case then we will see stocks jump along with the dollar, much like what we saw trader do last Tuesday which is what Jim Cramer says best – BUY BUY BUY.
Normally we do not see the dollar index rally along with stocks but if EU continues to show signs of weakness then it is very likely the dollar and equities inverse relationship could decouple. Reason being investors around the globe will focus their money on the more stable US investments like the dollar and US stocks.
You can learn how to trade economic news with my free Economic Indicator Trading Tool: http://www.thetechnicaltraders.com/economic-indicators.pdf    
The Dollar is Trading at a Major Tipping Point – Weekly Chart
The dollar index is something that I watch very closely on a daily basis. Focusing on the weekly and 8 hour charts I look for support and resistance levels along with price patterns.
As you can see from the weekly dollar chart below, a large bull flag has formed. This pattern typically means higher prices and in this case the price target is between the 86 and 88 level.
There are few wild cards to toss into the game on what will unfold next:
Currency manipulation seems to be strong and if the US wants a low dollar value then it's likely it will stay low. This bodes well for stocks and commodities.
Depending on what happens and how things unfold in Euro-land the dollar/stock relationship could decouple meaning they could start to rise together. If we get neutral economic data out of the EU and positive data out of the US it will likely boost the value of stocks and the dollar. But strong negative data out of the EU will more than likely just sent the dollar higher and spooking investors and triggering a selloff in stock prices.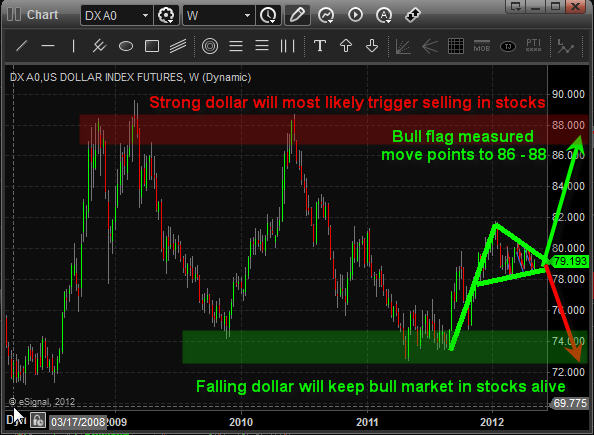 Dollar Index 4 Hour Chart
I find the dollar index to be a great trading tool in helping me time short term reversals in the equities market.
Taking a look at the 8 hour chart below you can see recurring bullish falling wedge patterns. The most recent brake out was this week and I anticipate the 79.50+ levels to be reached in the near term. If the dollar does continue to move higher then I expect sideways to lower stock prices for a couple more sessions.
That being said, the mixed economic data between the US and EU is going to cause this scenario to be unpredictable. Depending on the jobless claims this week stocks could actually rally while the dollar moves higher. Unfortunately, this week's mixed data does not provide any trading opportunities that I feel comfortable making.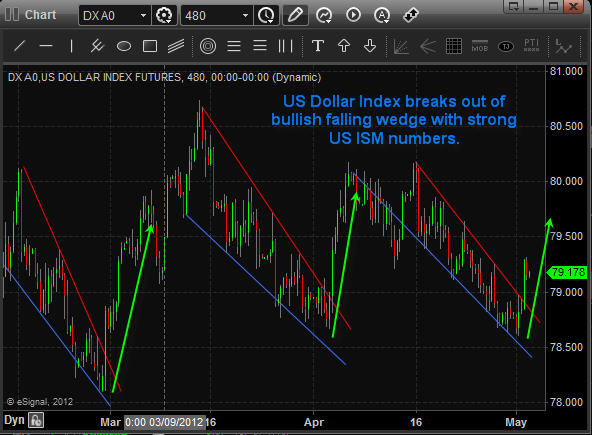 Mid-Week Market Conclusion:
In short, I feel a higher dollar is likely to happen. As for stock prices, well they are more of a wild card at this time but my analysis slightly favors higher prices.
To quickly touch on precious metals, they are likely to be under pressure for a few sessions simply because of the rising dollar.
I hope my analysis helps paint a picture of what to expect in the coming days.
Happy Trading,
Chris Vermeulen
www.GoldAndOilGuy.com – ETF Trading Analysis & Alerts

http://www.thegoldandoilguy.com/wp-content/uploads/2014/11/tgaoglogo.png
0
0
admin
http://www.thegoldandoilguy.com/wp-content/uploads/2014/11/tgaoglogo.png
admin
2012-05-02 20:42:10
2014-03-06 11:52:13
Equities Fight to Hold Up While EU & US Data Give Mixed Signals