Trump's Financial Revolution!
Trump's economic plans will increase national debt!
A Ticking time bomb!
Currently, U.S. debt stands at a mammoth $19.8 trillion and will continue to increase under President-elect Trump considering his lenient tax cuts and plans for infrastructure spending:( http://www.usdebtclock.org/).
The proposed tax cuts, inclusive of accrued interest and macroeconomic effects will increase the national debt by $7 trillion, over the next decade, and by $20 trillion within the next two decades, according to Forbes. There are no details on how the President-elect plans to finance these tax cuts.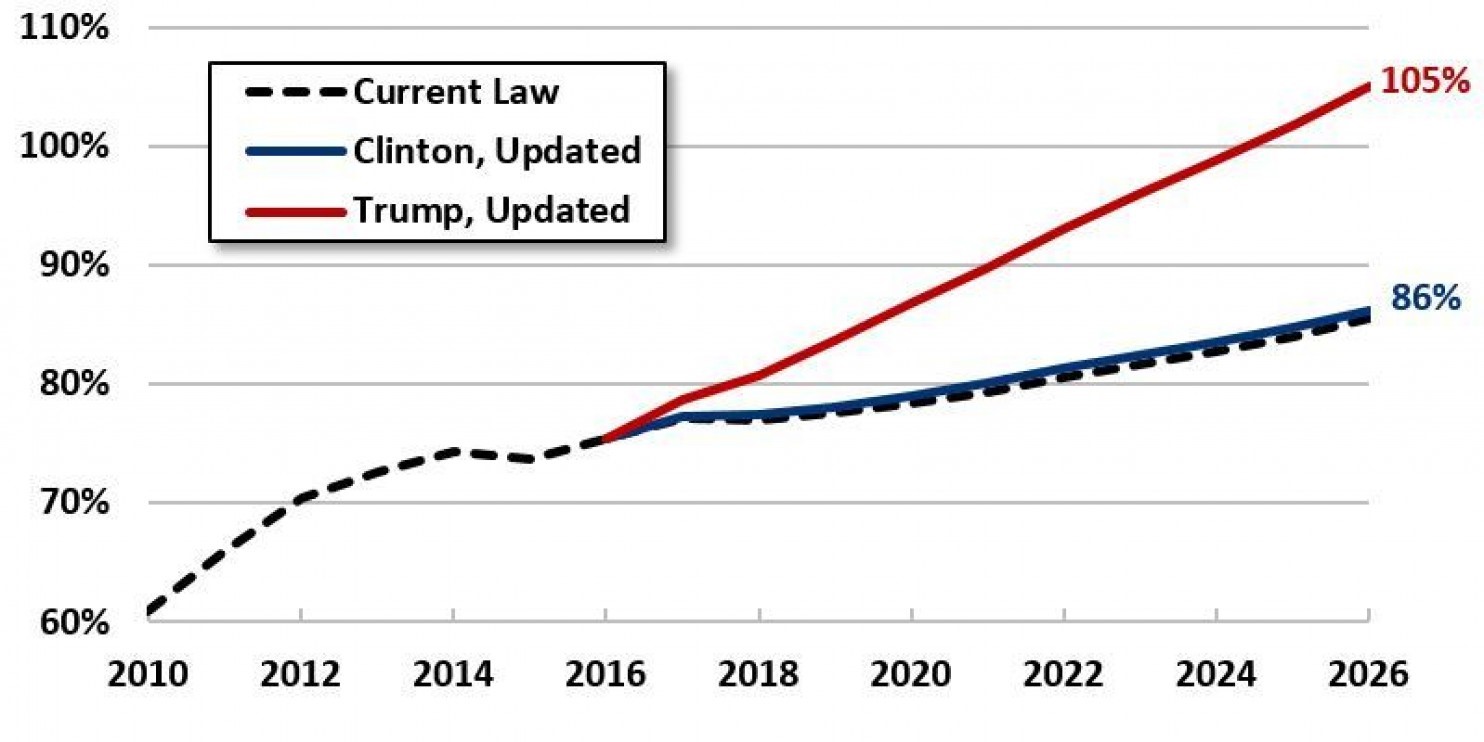 'Protectionism' has no winners!
President-elect Trump has radical plans to tear long-standing trade agreements like NAFTA and levy taxes on Chinese imports, etc.
However, in a highly global world, every action that President-elect Trump takes will have an equally strong reaction in an already highly leveraged global economy which is already struggling with anemic growth.  This global trade war is unlikely to benefit either the U.S. or the global economy.
It is not clear whether the U.S. public embrace paying higher prices for imported goods: (http://www.economist.com/blogs/graphicdetail/2016/11/daily-chart-9?fsrc=scn/tw/te/bl/ed/atrumptradeagenda). After all, offshoring has also given a boost to American corporations which have managed to bring down their cost of production; (i.e.:   costlier iPhone is most likely to reduce the demand for the product, both at home and abroad).
Investors have taken cheap money and used it to buy stocks and property.  The "real economy" is where the money was intended to go.  Trump economic disaster is a train wreck waiting to happen.
I must remind you that nothing has changed in our economy since the Trump market rally: (http://www.zerohedge.com/news/2016-12-09/dont-be-fooled-trump-rally-not-sign-economic-health).
President-elect Trump has been critical of Chairperson Dr. Yellen views as she understands that the economy cannot afford higher rates. The economy will collapse if monetary rates rise, as was evidenced over the past few years. Low rates will continue against the expectations of the experts who are calling for a very sharp increase in rates. When President-elect Trump takes office, he is going to need FED Chairwoman Dr. Yellen on his side, however, he has yet to realize this!
Businesses have not invested large amounts in new capital projects but rather have invested only in buying back their stocks.  In addition, they hire labour only on a part-time basis. As there is nothing particularly 'meaningful' supporting the markets, it is my opinion that the rise in stocks and property represents a "ticking time bomb".
The world has been living in a low-interest rate environment for many years now. This environment came about following the global financial crisis of 2008 and has dominated global money transfers. Consequently, it must maintain that status quo. If interest rates rise, the continued huge sell-off U.S. Treasuries and the international bond markets will continue in anticipation of higher yields.
Without knowing the finer details of the proposed policies, the stock markets have run up far ahead of themselves while leaving a very small margin of error!
Therefore, it is prudent for you to be ready to buy gold, in large quantities for the long-term.  The bullish seasonally for gold will begin next month in January of 2017.
Gold is one of the best solutions that can maintain the world's stability as well as your own future wealth when things start to crumble. Follow my lead as the markets oscillate through 2017 and beyond.
Chris Vermeulen
www.TheGoldAndOilGuy.com
https://thegoldandoilguy.com/wp-content/uploads/2016/12/trumpedimg.png
169
289
admin
http://www.thegoldandoilguy.com/wp-content/uploads/2014/11/tgaoglogo.png
admin
2016-12-15 05:06:38
2016-12-15 05:06:38
Trump's Financial Revolution!