The Trump Rally Is Just Getting Started!
Have you ever been presented with an opportunity and missed out on it?  Well, here is an opportunity you Do NOT want to miss out on.
Based upon my unique "Cycle Analytical" work combined with my "Proprietary Predictive Analytics Model", I can assure you that there are new highs to be made in the U.S. stock. Appling my unique metric, which are not available to the public, I can inform you that the stock markets are not overbought or overextended, at present. The market remains in a clear bullish trend!  This next new leg is very sustainable!
Technically Speaking, It Is Now Back To "Buy The Dip":
The SPX, Dow Jones and the Nasdaq Composite all closed at new all-time highs last Friday, February 10th,2017.  The Trump Rally is just getting started according to Bloomberg.
Investors should expect that the global markets will continue their bull market run throughout the first half of 2017 rather than forming a top which leads to a bear market. "Extremes" have lost their' meanings, at this point. The Federal Reserve has given the green light to major banks in the U.S. to raise dividends and buy back shares of their companies. The huge thrust in momentum has now returned to the four U.S. stock indexes.
Nicholas Teo of KGI Securities said that: "Ever since his victory in November, global stock markets have been steered by actions events rhetoric emanating from the new commander-in-chief".
The trigger events show the willingness of the markets to give the Trump Administration a lot more 'slack' as we engage into 2017.  Billions of dollars are continuing to flow into the U.S. real estate market from Chinese nationals. They are using their offshore cash reserves to make payments on the properties they have speculated on in the U.S. There are also big-money speculators who have the sophistication needed to circumvent China's Capital Controls.
Blackrock estimates that there is a whopping $50 trillion in cash "sitting on the sidelines". This money has come from global central-banks, financial-firm reserves and consumer savings accounts.  Blackstone is keeping nearly one-third of its' assets in cash. Fund managers have increased their reserves to levels that equal the highest since 2001. This means that there is a lot of liquidity with nowhere to go, but UP.
We are still in the early days of the new Trump Administration and everything seems to be going his way. President Trump's proposed economic policies are being well received by U.S. businesses, especially Wall Street big banks. His plans are certainly positive – such as deregulation, defunding of various useless federal agencies, simplification of the tax code and lowering taxes. Many people, including some of the best money managers, in the world, are at a loss trying to figure out where to put their money, right now.  However, all that you need to do this year is to follow my lead as I strive to make profitable returns and be on the right side of all markets, and you cannot afford to miss any hugely profitable setup this year!
All of the indicators continue to suggest higher prices ahead! 
The Elliott Wave Principle is a description of how groups of people behave. It reveals that mass psychology swings from pessimism to optimism thereby creating specific and measurable patterns. In the chart below, repeating patterns in prices are displayed showing where we are located at any given time. In those repeating patterns, I can predict where we are going next.
Wave 5:
Wave 5: Wave five is the last leg in the primary direction of the dominant trend.  Wave 5 advance is caused by a small group of traders. Prices will make a new high above the top of wave 3.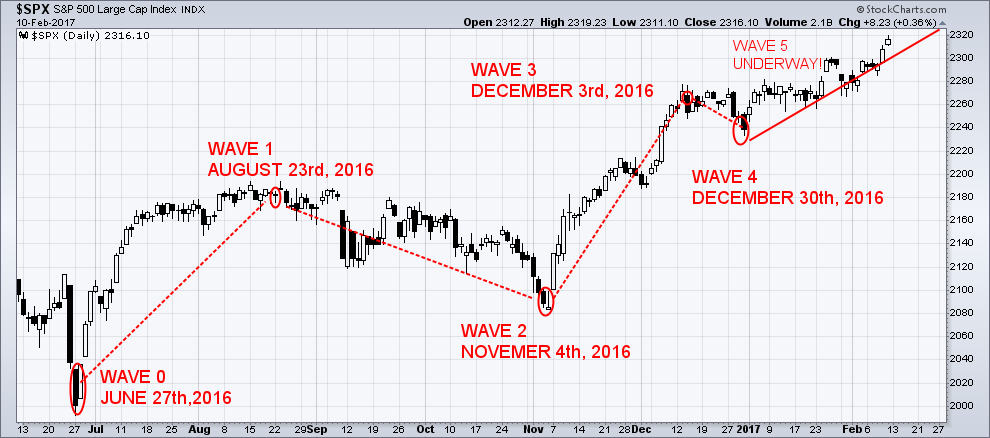 How To Make Money In 2017!
Do you trade like the professionals do? Most traders make the same mistakes – which is why they consistently lose money!  Implementing my winning strategy by receiving SMS text alerts every time we enter or close a trade is the best way to get you setup and be profitable on the same day!  Trading and focusing on my Momentum Reversal Method (MRM) and trading just the hot stocks and sectors for quick oversized gains is my expertise. Therefore, these momentum trades are moving significantly in one direction on heavy volume. The length of time for which I may hold a momentum trade depends on how quickly the trade is moving with trades lasting 3-25 days in length and we look for a7%- 35% potential gain.
Momentum traders are truly a unique group of individuals. Unlike other traders or analysts who dissect a company's financial statements or chart patterns, a momentum trader is only concerned with stocks in the news. These stocks will be the high percentage and volume movers of the day/week.
Read more: Momentum Traders | Investopedia http://www.investopedia.com/university/introduction-stock-trader-types/momentum-traders.asp#ixzz4YY8FK9VY
On February 8th, 2017, myself and subscribers closed out our NUGT trade for a 112% profit that we entered into on December 16th.2016,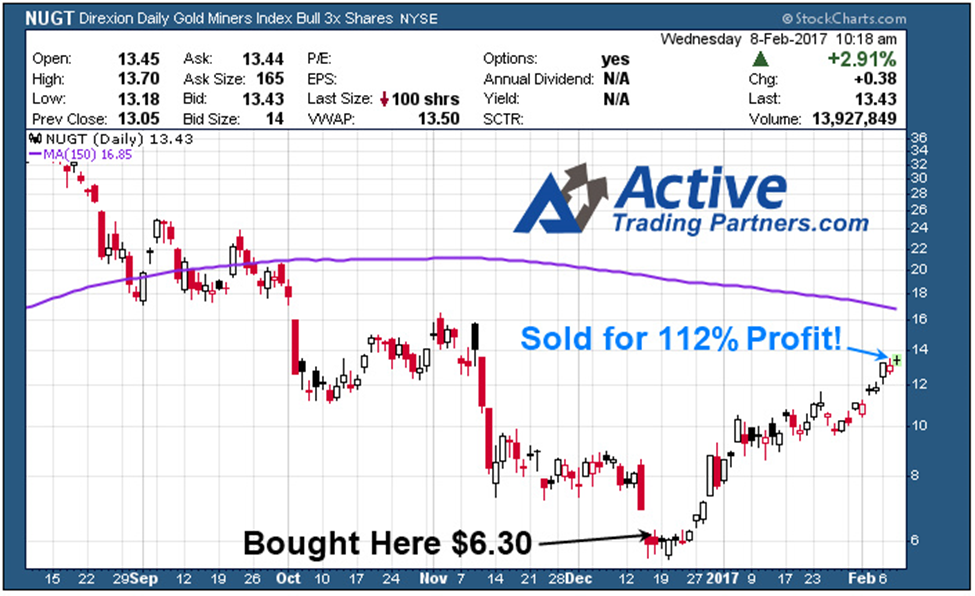 Sometimes stocks move very fast.  As I enter any new swing trades, I will immediately send out these alerts to you on your mobile device.
On February 8th, 2017, we entered the ERX at $33.00.  Right after we got into this trade, ERX, (http://etfdb.com/etf/ERX/), we were up 6% to 8% and we closed half our position.  Instantly receiving these alerts on your mobile device can make a huge difference in both time and profits as you saw in the ERX setup!  I always send out my swing trades to my members by SMS, but keep in mind most trades can be entered within a 1-3 day period as I don't catch exact market bottoms or tops.
America Is Happy, Again!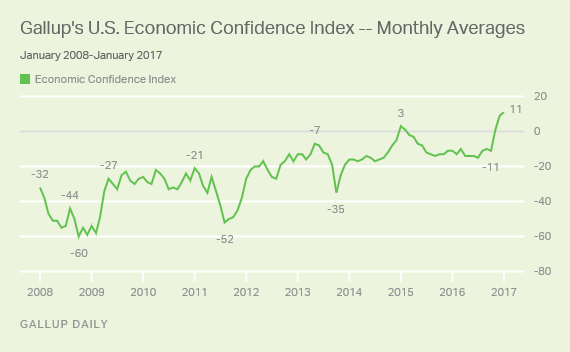 A recent Gallup Poll reported that American's confidence in the U.S. economy remained strong in January of 2017. Gallup's U.S. Economic Confidence Index averaged +11, which is the highest monthly average reached in Gallup's nine-year trend. I just came across this video that is enough to make you start thinking about changing your long term portfolio asset allocation – Watch Video Here
So, if you are looking for a simplified and highly accurate pulse on the markets, along with timely swing trades, I urge you to join my newsletter at www.ActiveTradingPartners.com.
Chris Vermeulen
https://thegoldandoilguy.com/wp-content/uploads/2016/08/crazymarket.gif
300
466
admin
http://www.thegoldandoilguy.com/wp-content/uploads/2014/11/tgaoglogo.png
admin
2017-02-14 06:08:18
2017-02-15 12:46:43
The Trump Rally Is Just Getting Started!