A Reversal Coming To U.S. Major Indexes?
Technically speaking, this week could be very important for the major U.S. equity markets. There is an appearance of a "TOPPING PATTERN" forming. I am now awaiting confirmation by the actions of the equity markets, this week. Expect downward pressure beginning this month of August of 2017.
The Only Chart You Need To See!
 
There is currently limited upside potential in the SPX relative to potential downside for the months of August, September and the early part of October 2017. There are signs for the short, intermediate and longer-term trends returning for the best six months of trading officially inaugurated in November of 2017! This is the timing framework when 'The Next Runaway Leg Up In The Stock Market Will Resume.'
In last weeks' market action as the profit taking rotation out of the high-tech sector rotated into the Dow Industrials, it reflected a more defensive approach while being invested in "Blue Chips" during which time it achieved a new high.  Sector rotation increased especially noticeable in the transports and technology sectors that were leading the markets higher. If they continue lower, more sectors will join the decline. I am expecting a coming pop in the VIX on Aug 4, Aug 23, Sept 11 or 12 and finally Sept 28 or 29. 2017.  There was a flight to safety in the Yen as well as a strengthening of the price of Gold, Silver, Bitcoin and WTI Crude Oil.
People are starting to park their money in digital currencies, like Bitcoin and Ethereum, rather than parking them in fiat currencies – I buy and hold my currencies in this crypto wallet CoinBase.
An Unusual Anomaly:
Over the past couple of weeks, there was this unusual Anomaly which occurred, as you can see in the chart below.  It now makes me more cautious about our long understanding of "risk inter-connectivity".
How can the equity, gold, silver, crude oil and bitcoin markets ALL go HIGHER together?
Tune in every morning for my video analysis and market forecasts at TheGoldAndOilGuy.com to now where the main 'asset classes' are headed tomorrow, this week, and next month.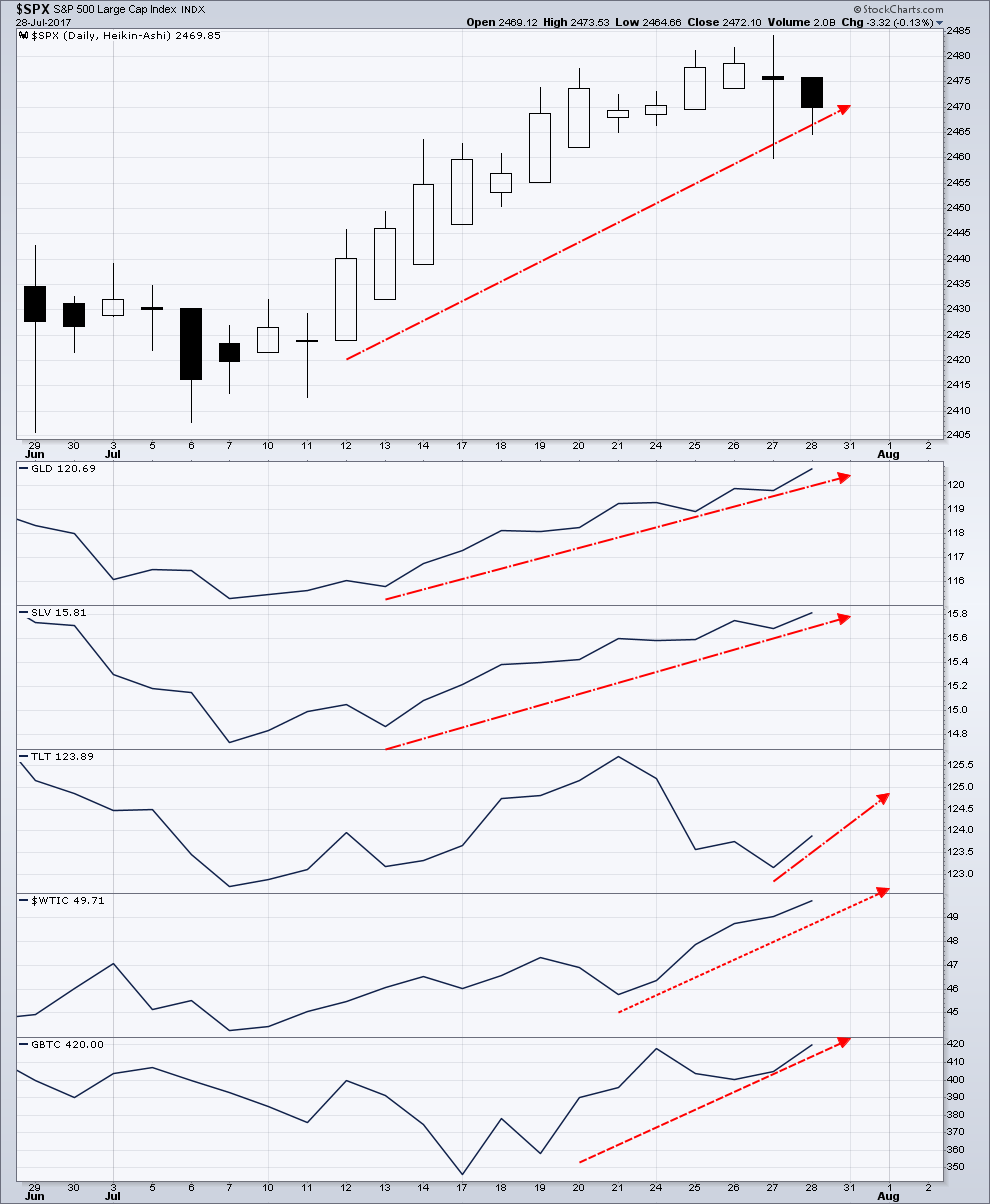 In short, the major equities trend remains to the upside but its likely to take shape in a slow grinding process with downward pressure starting in August fora couple months.
Be sure to follow my daily pre-market video forecasts and ETF trades at www.TheGoldAndOilGuy.com
Chris Vermeulen
https://thegoldandoilguy.com/wp-content/uploads/2017/08/vxx.png
752
972
admin
http://www.thegoldandoilguy.com/wp-content/uploads/2014/11/tgaoglogo.png
admin
2017-08-01 12:05:42
2017-08-02 21:07:50
A Reversal Coming To U.S. Major Indexes?