How to Trade POMO Manipulation
This week I talked about how the uptrend is to be the focus of trading positions until a down trend is actually confirmed via price and volume action. The SP500 was very close to reversing down this week but with the POMO's (permanent open market operations) scheduled largest injection of money for February of over $5 billion dollars sent stocks soaring jamming stocks back up into its uptrend.
Take a look at the normal daily injections and then look at Feb 27th's….
SP500 Futures 10 Minute Chart Zoomed Back 48 Hours…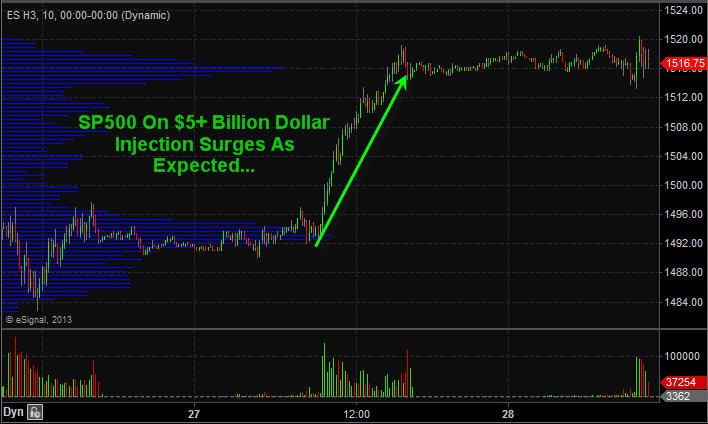 SP500 Trend – Green, Orange, Red candles indicate trend direction
Short Term Trading Conclusion:
Following the bigger underlying trend of the market along with the big money will keep you on the right side of the market more times than not. My trading strategy which is now programmed into my trading system clearly tells me the current market trend, entry signals, profit taking, stop adjustments and exit prices.
Creating a proven trading strategy which works in all market conditions and having it programmed to do 95% of the analysis for you keep my trading emotions in check, saves me time and money and keeps things simple which is the key for long term success. So keep your eye on the POMO's injection schedule each month for days to focus on long day trades or entry points for swing trades.
Receive Free Weekly Reports, Trading Tips and my Book: www.GoldAndOilGuy.com
Chris Vermeulen
http://www.thegoldandoilguy.com/wp-content/uploads/2014/11/tgaoglogo.png
0
0
admin
http://www.thegoldandoilguy.com/wp-content/uploads/2014/11/tgaoglogo.png
admin
2013-02-28 10:57:50
2014-03-06 11:55:36
How to Trade POMO Manipulation