The New Gold Rush Of 2017!
Gold to Regain Its Gleam!
One question that gold investors are asking now is, will 2017 be as spectacular for the yellow metal as it was in 2016? The short and sweet answer to this is YES.
The dollar, gold and the major U.S. stock exchanges will all see new highs. Gold is currently in a "complex corrective correction" while experiencing its' last pullback, beforehand.
Both the short-term outlook and the long-term outlook for gold is BULLISH!  Trumps' victory win is a positive for gold bulls. Policy uncertainty and slowing growth, following a Trump win, will stoke the yellow metals' price in 2017.
Gold prices have been under pressure since the Trump victory, but the long-term scenario for gold is that it is parabolic. The global economy is still in contraction. Global Center Bankers continue with monetary easing, leading to currency debasement. Interest rates continue to slide into negative territory in Europe and Asia.  Gold's investment appeal will encounter a period of time before it generates positive yields. Gold, as an investment, will once again be back in vogue. As prices rally, investment demand will only rise further, taking everyone by surprise.
The demand for gold jewelry has been declining within the large gold-consuming nations. The gold investors will call the shots in this new 'bull' market of gold.  Current supply constraint has cushioned gold prices from the rally in the U. S. dollar.
This is the last great buying opportunity for gold before it makes its' next historic run in 2017 and beyond.
Excessive Pessimism: 2.0
THIS IS WHEN THE BEST OPPORTUNITY TO BUY GOLD IS PRESENTED
Latest Value(s):
– Last Reading: 1.0
– Extreme Values:
– Excessive Optimism: 8.0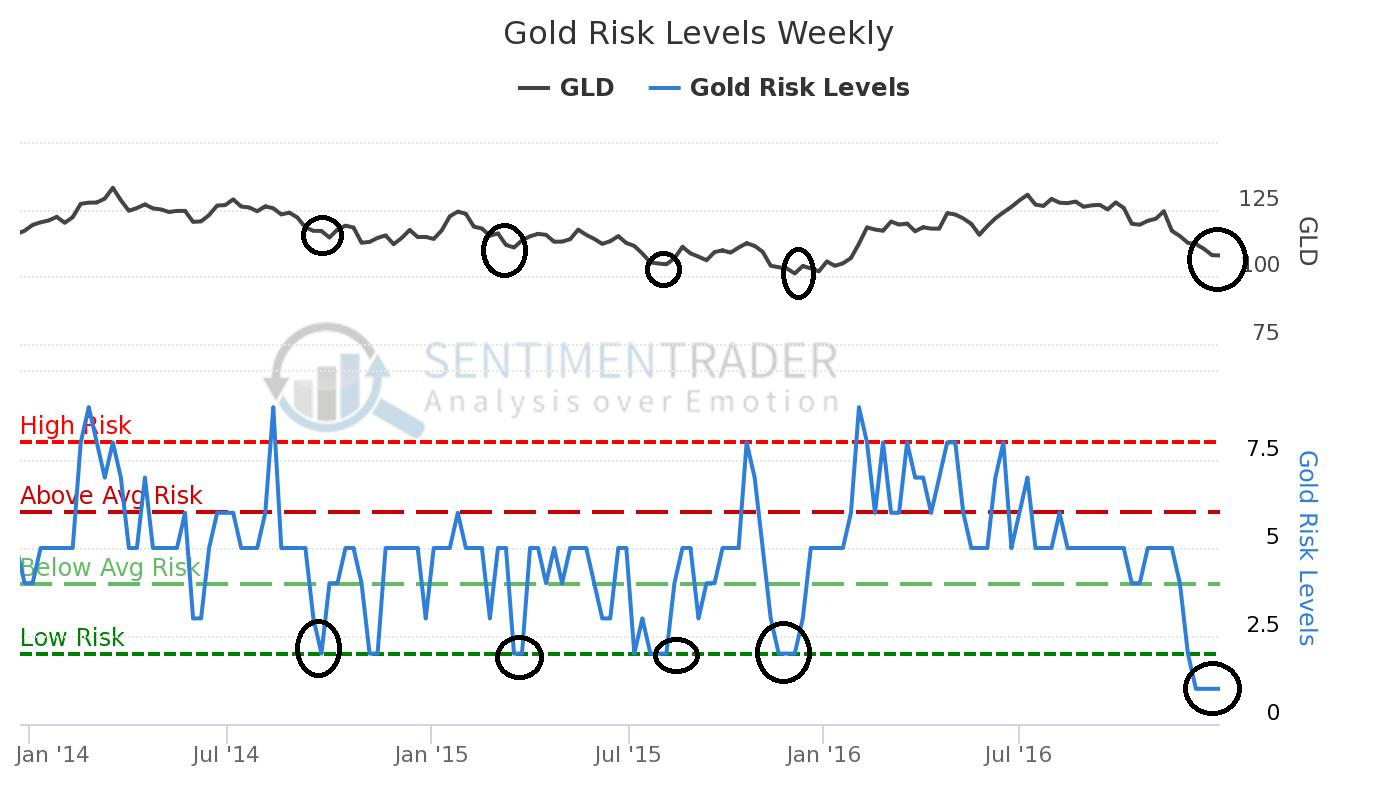 ---
Excessive Pessimism: 30:
THIS IS WHEN THE BEST OPPORTUNITY TO BUY GOLD IS PRESENTED
Latest Value(s):
– Last Reading: 34.0
– Extreme Values:
– Excessive Optimism: 75.0
– Excessive Pessimism: 30.0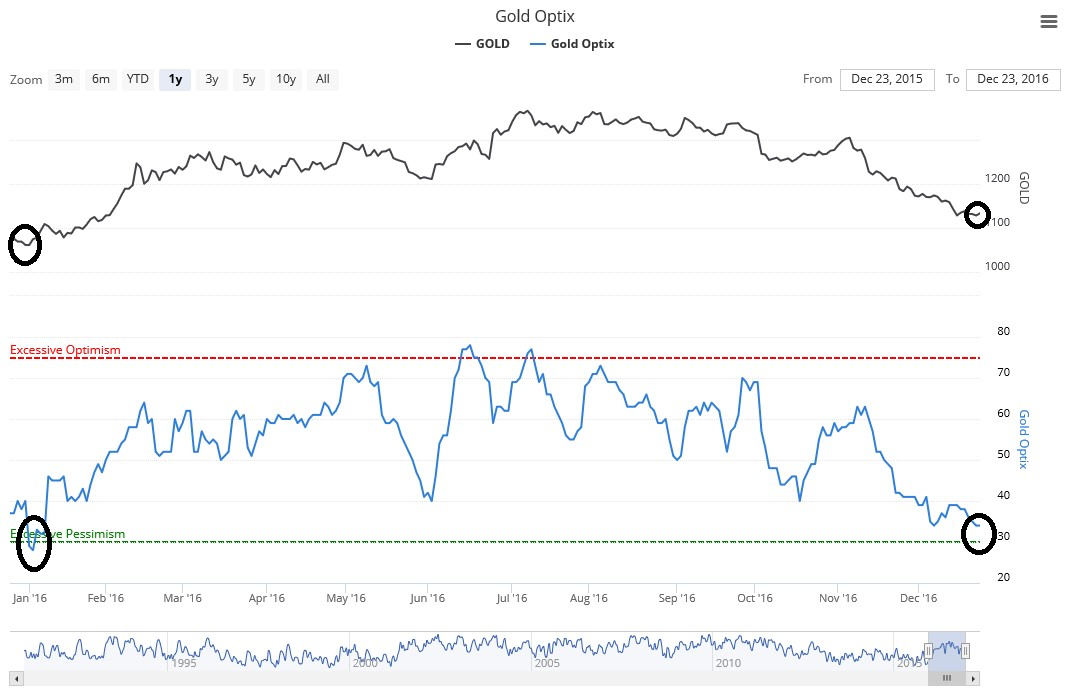 ---
Gold Hedgers Positions
Latest Value(s):
– Last Reading: -134022.0
Extreme Values:
The green dotted line is 1 standard deviation above the 3-year average;
the red dotted line is 1 standard deviation below the 3-year average.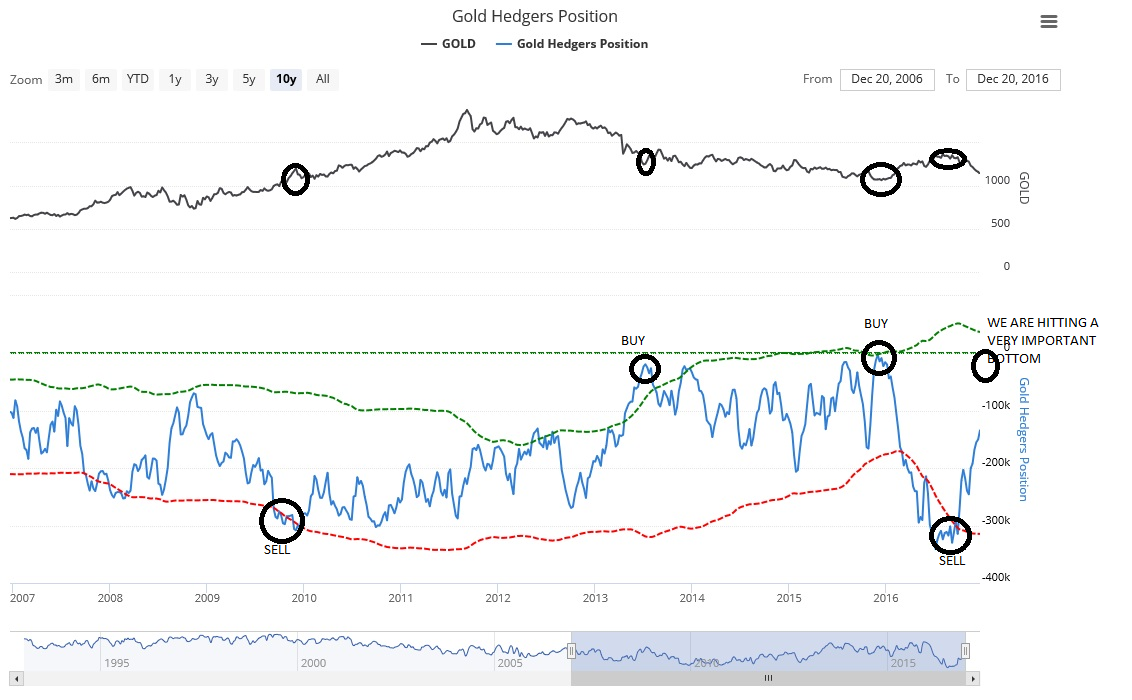 ---
The Drivers!
A key factor that has driven investments in gold is the negative interest rate in Europe, Japan, Denmark, Sweden, and Switzerland. The sovereign debt of approximately one third of the developed countries traded with a negative yield while an additional 40% of the countries had yields below 1%.
Gold prices will be driven more by its' value as an 'investment asset class'. Gold will supersede investments in other 'asset classes' such as equity and bonds in due time.
The massive U.S. debt continues to spiral out of control. The Treasury Department's printing presses are cranking out hundreds of billions of dollars in new money. European countries are imploding financially and the entire European Union is at risk of a collapse.  These 'geopolitical' factors will be driving the demand for gold as a 'safe haven".
The global 'retail' investment market is well positioned for growth what with demand for gold in China, India, Germany and the U.S. for 2017.
Social media is a 'key driver' which is critical in both China and India. Financial advisors and financial websites are the key drivers in the U.S. markets. In Germany, banks play the most important influence; 'Protect wealth against the system'.  It has a competitive advantage compared to other investment options.
Jordan Eliseo, Chief Economist at precious-metals dealer ABC Bullion, says "Gold retreated about 18 percent from its year-to-date high. Afterward, it gained 26 percent in the first half of 2016.  The decline so far, this year has been about 15 percent from its year-to-date high.  Gold, is setting up for another rally in fashion like last year. The recent correction has already drawing in some investors to buy what they see as cheap metal."
On December 14th my trading partner accurately forecasted the recent bottom in gold which you can see in this gold market forecast.
December 14th Forecast chart: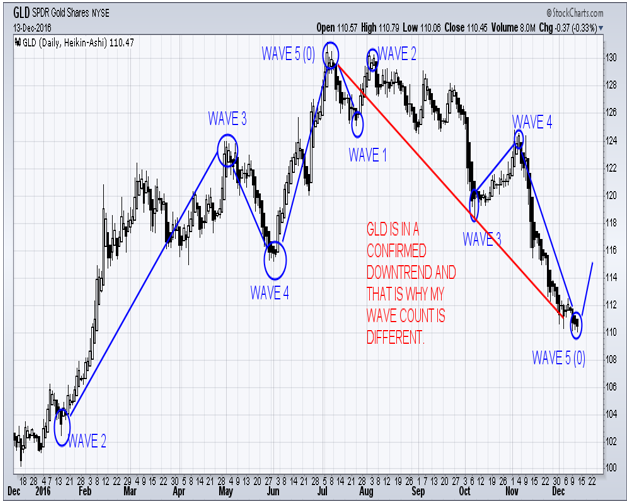 He then took things a step further and entered into a NUGT (3x long gold miners ETF) with subscribers and recently locked in 50% profit on the first half and is up over 70% on the balance as of Fridays closing price.
GOLD WEEKLY CHART REMAINS IN DOWNTREND
The constructing on this new infrastructure is going to require a lot of new money. The country is already close to $20 trillion in debt, so if the administration plans to make this one of their priorities, it is going to have to print it.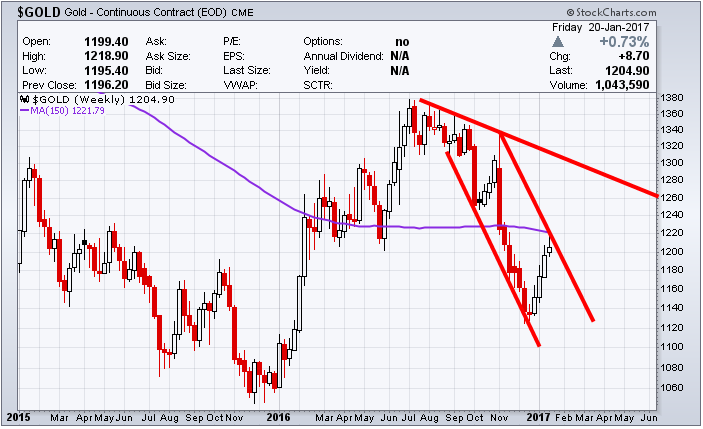 'THE GREAT RESET'
Nixon closed the gold window on August 15th, 1971 and consequently, the world entered a new era.  For the first time in history, all the world's monies were unbacked fiat currencies, adrift on a sea of floating exchange rates.  This stopped the redemption of currency for gold. Today, gold reserves are nothing more than an asset listed on the FEDS' balance sheet.  Gold had stopped being an integral part of our financial monetary system
At the top of international commerce, money managers had always known the dangers of 'currency risk', but now every currency has become a 'soft currency'. Recognition of 'currency risk' seeped down into the knowledge chain, but on the street of personal financial management, despite it being 45 years later, not many have caught on to the concept.
To Live And/Or Continue Living the American Dream
Golds' strength is in the role of 'wealth protection'. It is a 'safehaven' and its 'independence' from the global financial system makes it a great investment for the future. Gold is still good value for those who do not own any to accumulate ounces.
In a few days, I will be publishing a piece talking about the shift in the economy and what I call "The Great Transfer of Wealth". Be sure to join my free newsletter below to receive this special report!
Chris Vermeulen
www.TheGoldAndOilGuy.com
https://thegoldandoilguy.com/wp-content/uploads/2016/08/goldimage.jpg
500
900
admin
http://www.thegoldandoilguy.com/wp-content/uploads/2014/11/tgaoglogo.png
admin
2017-01-21 08:13:47
2017-01-21 08:22:02
The New Gold Rush Of 2017!