Lost Treasures of Quebec waiting to be Discovered in the "Eldorado of Canada"
**********OCTOBER 26th – UPDATE***********
This company is called Golden Hope Mines Ltd. I have met with them in Toronto and they are an awesome team, and have a very simple and effect approach to mining their gold. They are going to be a GREEN gold company meaning no mill, no chemicals…. And if they go in the direction I think they are headed they will produce gold must like the guys on the show "Gold Rush". Just run the pay dirt through the machines and let gravity do the job. It's simple, fast and affordable and does not require any expensive permits or slow paperwork/approvals.
You can see my special report Below on them which proves there is big potential and the fact that this team has a an X Gold Corp. key employee who knows everything there is to know about gold, mining, equipment, and has the connections to make things happen fast and efficiently has me really excited.
The reason for this email is to share with you the fact that Golden Hope Mines is doing a Private Placement right now meaning you get shares at a discounted price, plus options I would expect meaning if price skyrockets in value over the next couple years you can still buy more shares at this discounted price which can be highly profitable…
If you want more information to get into this private placement let me know and I can connect you with the right person at Golden Hope Mines.
**********************
A few weeks ago I shared some information about Golden Hope Mines which is a small company I recently purchased shares in. They have been active in the Beauce Region and have been very successful with their Bellechasse-Timmins Deposit and Champagne zone. Now Golden Hope is in the gestation stage for the next epoch of gold production in the Beauce Region.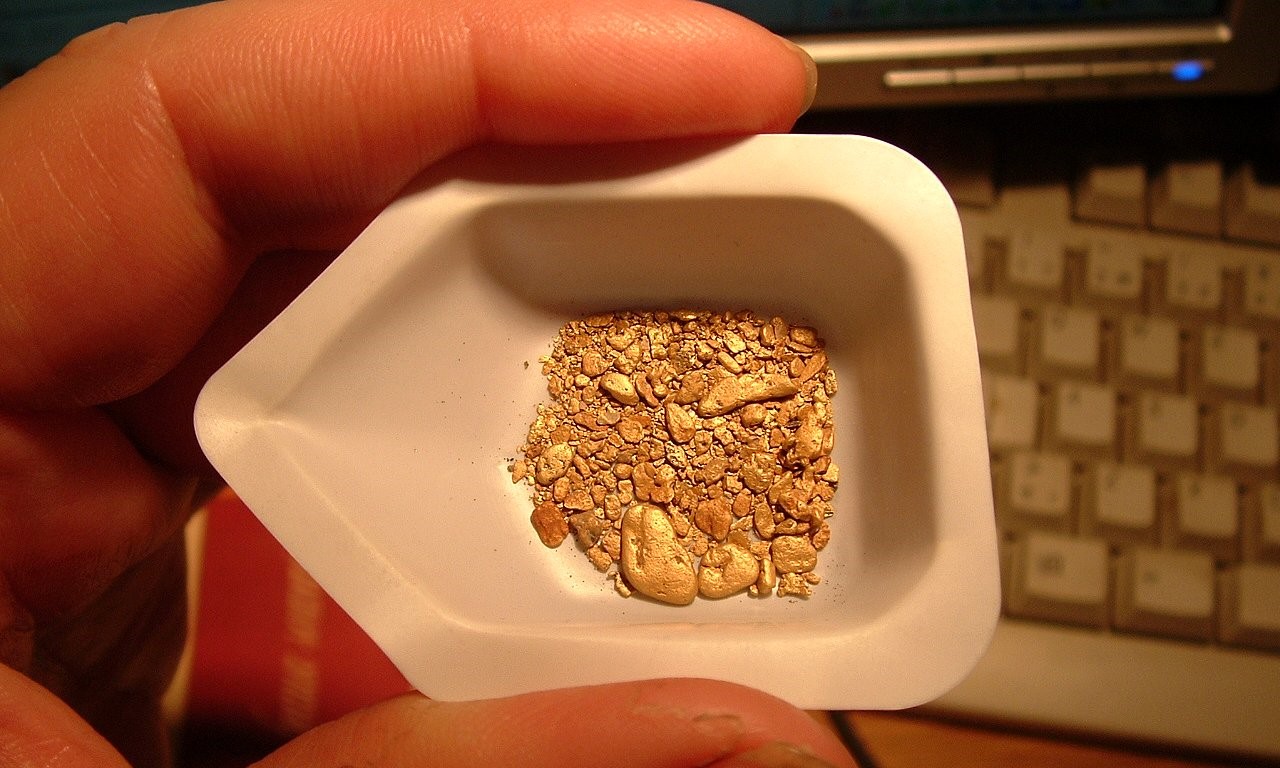 Fifty years before prospectors invaded the Klondike, the Beauce Region of Quebec became the home of Canada's first gold rush, discovering two of the largest nuggets ever found in the country.
In 1835 the first gold nuggets were discovered in Quebec in the Beauce Region. In 1846, 20-year-old Clothilde Gilbert was crossing the shallow, sandy river later known as the Gilbert River when she noticed a shiny, yellow rock about the size of a pigeon egg. This turned out to be a 2.5-ounce gold nugget. By 1847 the first alluvial gold is mined in the Beauce. Many times prospectors have claimed to find the source of this gold, but to this day it still eludes their keen senses for the elusive yellow metal.
Just like that, gold fever spiked again. People came to the area from across the United States and Europe, and nearby Saint-François-de-Beauce became a boomtown that would eventually be known as the "Eldorado of Canada." A railway line was even built through the town and connected the region to the industrial and transportation hubs further north, which brought more eager gold-seekers.
Robert Kilgour found a nugget weighing 52 ounce on the north branch of the Gilbert River, a tributary of the Chaudiere River in 1866. Another 46 ounce was found in the same area by Archibald MacDonald. And in 1877 the Boissonneau brothers discovered a 42 ounce nugget.
In total, an estimated 1.5 to three tons of gold came out of the Beauce region during this gold rush, half of it from the Gilbert River.
In 1988, geologist Michel Gauthier completed a data compilation that recorded a total of 3 tons of gold which were extracted from rivers of the Beauce region by placer mining activities that took place from 1847 to 1912. Although a few scattered gold occurrences have been found in the region to date, the source has yet to be discovered.
Golden Hope Mines
GNH:TSXV
7.06 million shares outstanding
www.GoldenHopeMines.com
For More information on Quebec's Gold Rush see:
http://magazine.cim.org/en/2015/May/mining-lore/Quebec-gold-rush.aspx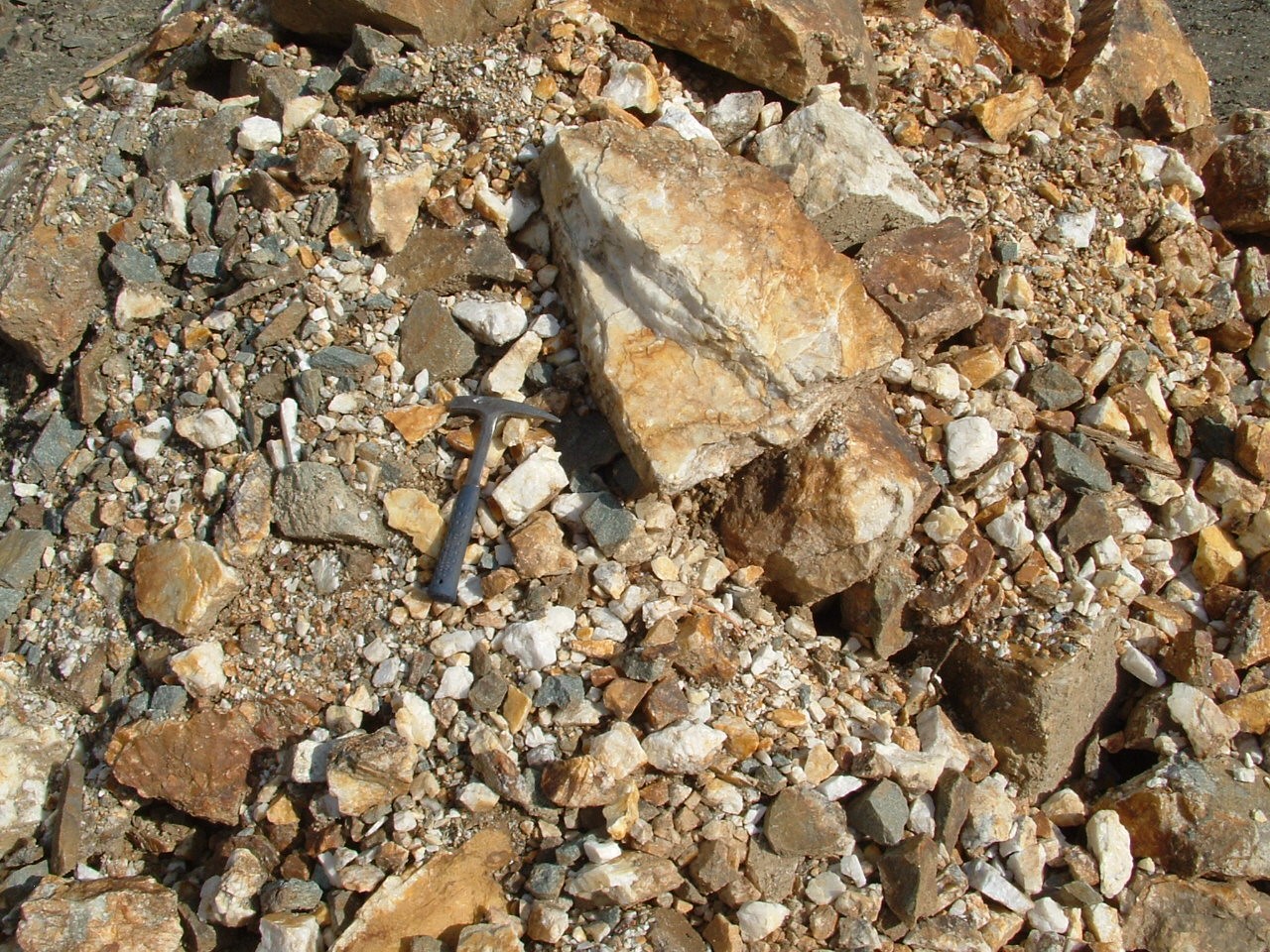 In the Beauce Region there are a few active juniors, but only Golden Hope Mines Limited has a 43-101 compliant resource with many multi-ounce drill hole intersections.
Golden Hope Mines, a Toronto based mining has discovered gold in Beauce
Here is an interview with Golden Hope Management team ith Kerry Lutz on the Financial Survival Network:
Back in 1990, Golden Hope attracted St. Genevieve Resources to spend $2 million to earn an option of the property. From the December 17, 1990 Northern Miner, "Golden Hope Resources continues to uncover high-grade veins as it strips back overburden from the Bellechasse deposit southeast of Quebec City. Sampling four shear zones within a 300×300-ft. area on the 88 zone, Golden Hope encountered several quartz veins containing visible gold and ranging up to 193.8 oz. per ton"
After a limited five hole drill program in 2003 conducted by Golden Hope, a joint venture was entered into with Osisko Exploration, which permitted Osisko an earn-in of up to 60% on the Bellechasse claims, then comprising 80 contiguous claims of 1969 hectares (4866 acres). However, the connection of Osisko to the Bellechasse property actually began many years before.
In 1993, a graduate student at Queen's University submitted his Master's Thesis on the Bellechasse gold deposits; he'd been doing work on the project since 1988. That man, John Burzynski, more recently Vice-President of Corporate Development at Osisko. Earlier, in 2003, he became VP Exploration for Osisko, just after Osisko and Golden Hope entered into the previously mentioned JV agreement. In June 2003, Osisko published a 43-101 compliant Technical Report on the Bellechasse deposit, and proceeded with staged drill program beginning in July of that same year.
In July in 2004, Golden Hope reported that the joint venture had been dissolved, and all claims had fully reverted back to Golden Hope. The termination resulted from the failure of Osisko to fulfill both its financial and technical obligations under the terms of the Agreement of May 21, 2003. It was in 2004 that Osisko got their opportunity to explore and then develop their Malartic project, and it's kept them rather busy in the meantime.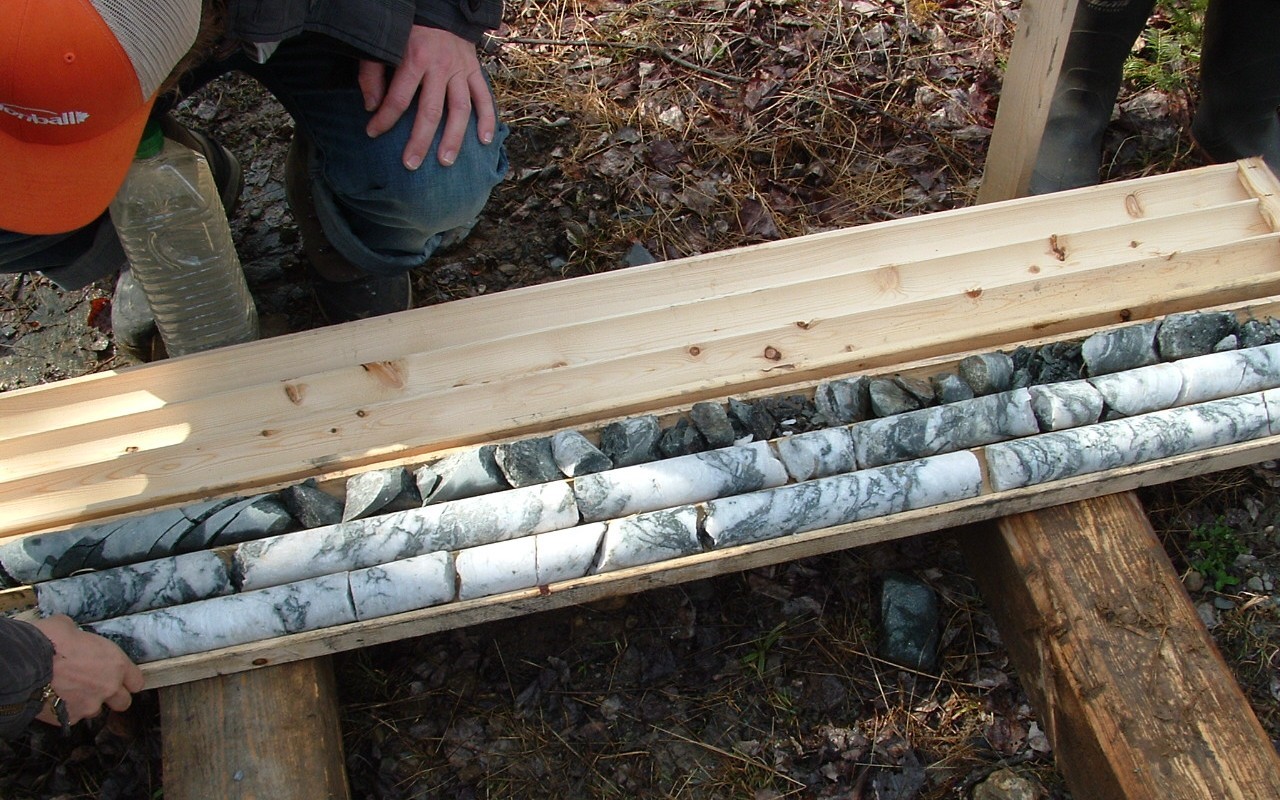 Back 100% in the hands of Golden Hope, exploration continued in including more drilling and bulk sampling. Below are some highlights from the 2011-2012 drill program from the Bellechasse-Timmins Deposit that has a the 43-101 compliant resource.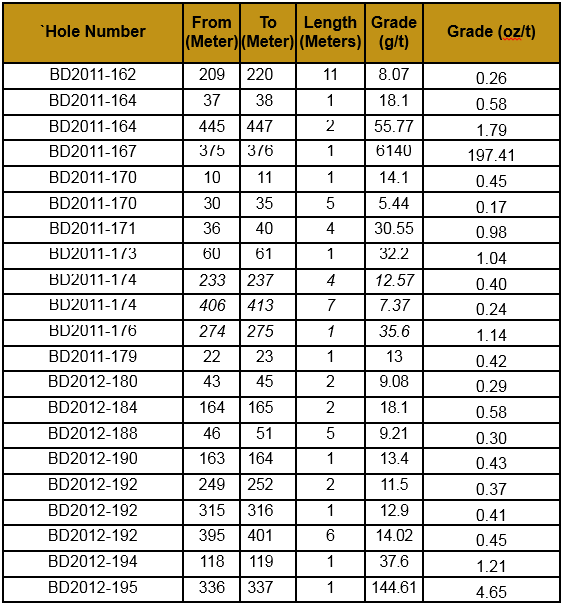 Activity was essentially dormant for the periods 1994 to 2002, and again from 2013 to mid-2015. For the last three years, gold has been in a bear market. Money has been close to impossible to find for both majors and juniors. The Bellchasse-Timmins Deposit has had little new work completed on it.
Golden Hope is now ready to relaunch with a revised share structure (less than 10 million shares out) and some added technical strength to its board. Without question, the district contains multiple Bellechasse-Timmins type deposits. To Golden Hope's credit, they have kept expenses down to an absolute minimum. The potential for Golden Hope is very high but they will need money and top-notch technical people. And I think they have the people, now they just need the working capital. Welcome to the "The Klondike Beauceron" and Golden Hope Mines.
I plan to spend a couple days on the property to see the results and do a little gold panning of my own as its something I have always wanted to do. I will shares photos and videos if it happens!
Chris Vermeulen
https://thegoldandoilguy.com/wp-content/uploads/2015/08/gem.png
232
307
admin
http://www.thegoldandoilguy.com/wp-content/uploads/2014/11/tgaoglogo.png
admin
2015-09-01 20:28:13
2015-10-26 14:51:16
Lost Treasures of Quebec waiting to be Discovered in the "Eldorado of Canada"