Gold Market Traders: Metals And Stock Market will Swap Trends – Part II
The two trend reversals everyone has been waiting a year for are about to take place, but they have not yet started.
While I do think 2014 is the year we see gold, silver, miners and many other commodities rally, it is important to follow the trend and wait for a reversal to form before getting overly excited and long commodities.
Each time we see the daily charts form some type of bullish pattern gold market traders become instantly bullish. And each time this happens they get another reality check about their trading technique of trying to pick a bottom.
I just published a book in December which teaches readers how to identify trends and stages in the market – "Technical Trading Mastery – 7 Steps to Win With Logic". Buying into a bear market rally is not a high probability winning position. Odds favor that sellers will pull the price down and likely to new lows.
This January is one of these times and gold market traders are getting excited and long positions. While the bottom may in for precious metals, buying a bounce in a bear market is tricky and you better have some trading discipline to exit if price starts to sell back down.
Eventually we will see the stock market rollover and breakdown below its support trendline and gold will rally. But keep in mind, some of the largest percentage based moves take place just before a reversal. What does this mean? It means that the stock market could easily go parabolic and rally for a few more weeks, then reverse down sharply. And precious metals would do the opposite, sell off, make new lows, then reverse back up and start a new bull market.
Stock Market VS. Gold – Gold Market Traders Be Aware!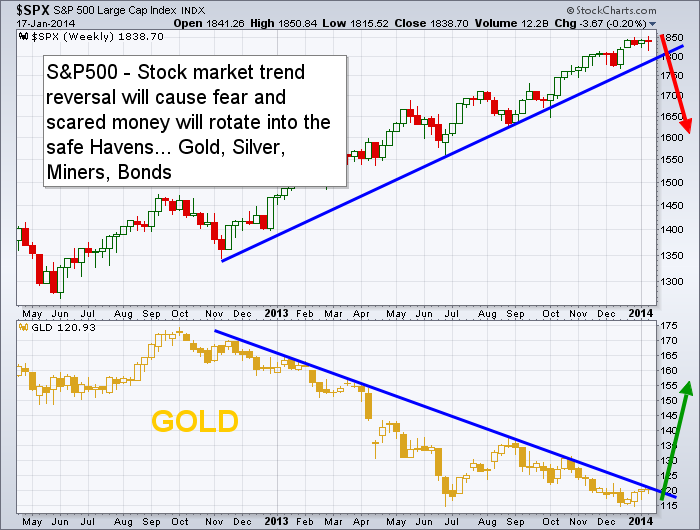 Below are a few more charts showing my big picture trend analysis for silver and gold miners.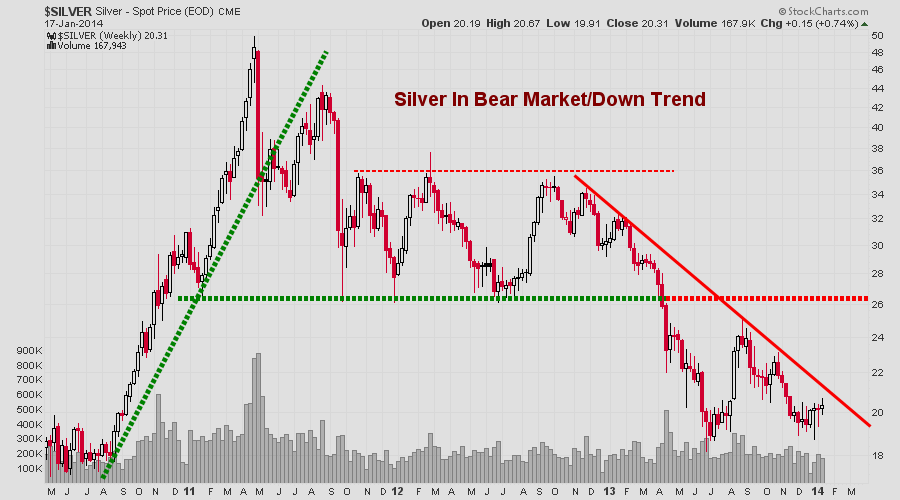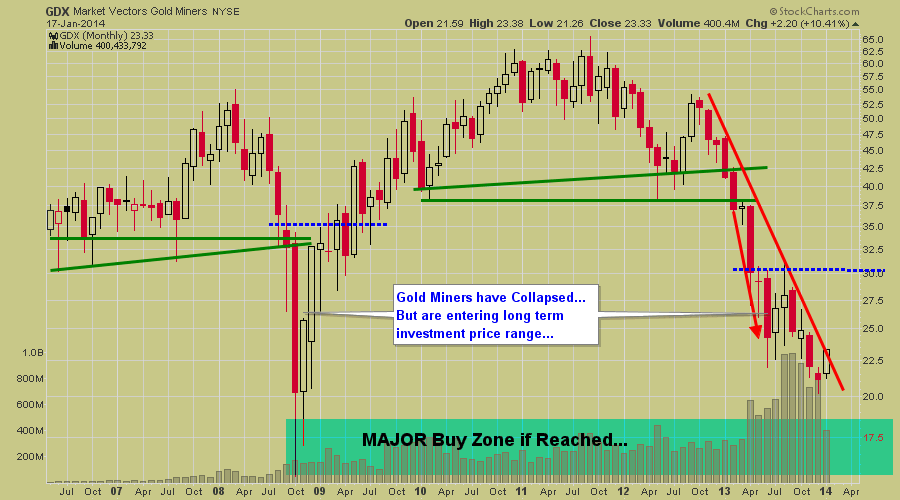 Gold Market Traders Conclusion:
In short, the precious metals sector is still in a bear market and has not yet reversed to the upside. As you know I don't pick bottoms or tops which go against the longer term trend. In this case the trend is down for precious metals so I am not trying to pick a bottom.
While I am starting to get excited about the eventual bottom in gold, I am still sitting on the fence with my cash.
If you would like to get my analysis every day and my gold trades be sure to join me at www.TheGoldAndOilGuy.com
Chris Vermeulen

http://www.thegoldandoilguy.com/wp-content/uploads/2014/11/tgaoglogo.png
0
0
admin
http://www.thegoldandoilguy.com/wp-content/uploads/2014/11/tgaoglogo.png
admin
2014-01-20 10:59:28
2014-03-03 12:09:49
Gold Market Traders: Metals And Stock Market will Swap Trends – Part II