My Automated Investing System Presentation at TradersWorldExpo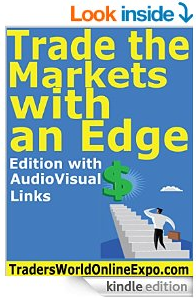 Hey folks, it's Chris Vermeulen here. I just wanted to mention that doing the traders world online Expo this week. You can download the traders world Expo book from Amazon free of charge until June 27.
This book is jam packed full of highly educational articles from the sponsored guests including myself. For this Expo I decided cover the topic of automated investing systems and why you need them as part of your investment portfolio. I put together a short educational article in the book and you can also watch my presentation on the TradersWorldExpo.com website along with dozens of other big-name guests presenting at the Expo.
Get TradersWorldExpo Book Free Until June 27th: Click Here
Watch My Automated Investing System Presentation: Click Here
Browse Dozens of Trading Presentation & Watch Free: Click Here
This is an important book discussing the use of different strategies methods about trading. It was written by over 30 expert traders.
The book was designed to help you develop your own trading edge in the markets to put you above others who don't have an edge and just trade by the seat of their pants. 90% of traders actually lose in the markets and the main reason is simply that they don't have an edge.
All of the writers in this book are very experienced and knowledgeable of different ways. Each of them has their own expertise in trading the markets. What sets these traders apart from other traders? Many think that beating the markets has something to do with discovering and using some secret formula. The traders in this book have the right attitude and many employ a combination of fundamental analysis, technical analysis principles and formulas in their best trading strategies. This gives them a trading edge over other traders.
If you want to be successful at trading, you too must have your edge.
One needs to find successful trading strategies and implement them in their own trading method. The purpose of this book is to present to you the best trading strategies of these traders so that you might be able to select those that fit you best and then implement them into your own trading style.
I wish to express my appreciation to all the writers in this book who made the book possible. They have spent many hours of their time and hard work in writing their section of the book and the putting together their video presentation for the online expo.
Get TradersWorldExpo Book Free Until June 27th: Click Here
Watch My Automated Investing System Presentation: Click Here
Browse Dozens of Trading Presentation & Watch Free: Click Here
https://thegoldandoilguy.com/wp-content/uploads/2014/06/mustread.png
142
200
admin
http://www.thegoldandoilguy.com/wp-content/uploads/2014/11/tgaoglogo.png
admin
2014-06-25 21:40:55
2014-06-25 21:43:06
My Automated Investing System Presentation at TradersWorldExpo