AAPL Looks Ready Bounce & the Next Best Trade Ideas
AAPL shares have been in free fall mode all October spooking investors with a $120 drop from the all-time high in September. As well all know, though it's hard to follow without a proven trading strategy to keep us focused but the key is that you must buy when others are selling and then sell when everyone is buying.
Apple shares really have helped in holding the overall stock market up in the past but recently it has been a big drag on the broad market. Taking a look at the chart below you can see my analysis and thoughts of this giant.
The red horizontal line shows the key level where high volume traded in the past. For the market to reset (flush out investors/traders) it must shake as many longs out before it can start rising again. By the price breaking below that level which also happens to be a Century Number $600, most of the stops were placed down around this level. The volume spike of 40,000,000 shares clearly shows it triggered stops once that $600 level was broken. We want stops run because it give more power to the next rally/bounce.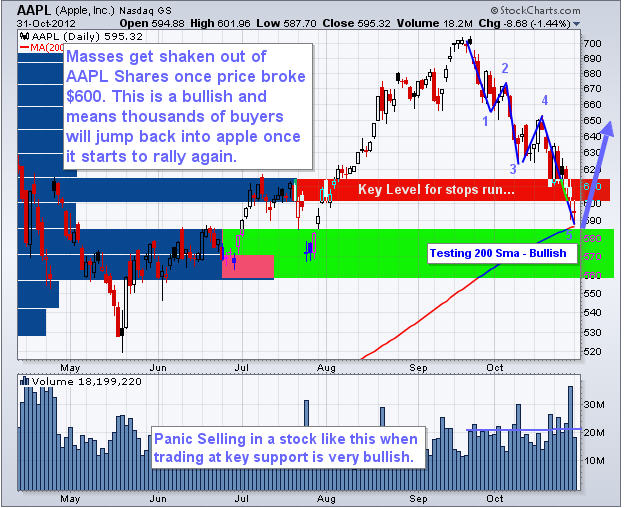 NASDAQ Index:
The NASDAQ has formed a similar chart pattern and is heavily weighted with AAPL shares. Trading NQ futures, QQQ, QLD or the XLK exchange traded fund as a much more affordable way to play a bounce/rally in the coming weeks.
Russell 2000 Index:
I really like the Russell 2000 index because small cap stocks can rally hard and fast outperforming the large caps like AAPL, SP500, NASDAQ and DOW. This index is looking ripe for a bounce in the coming days which could trigger the next major rally to new highs. You can plan this index through TF futures contract, IWM, TNA, UWM exchange traded funds.
Trading Conclusion:
While this setup looks very promising because the election is almost over and the Santa Clause rally is just around the corner. Know that some of the biggest drops in the market happens during times when the market is running the stops. It is a natural tendency to take big positions which things look great, but that is not how you do it… Take calculated position sizes knowing indexes could fall another 2-3% before putting in a real washout bottom.
Chris Vermeulen
http://www.thegoldandoilguy.com/wp-content/uploads/2014/11/tgaoglogo.png
0
0
admin
http://www.thegoldandoilguy.com/wp-content/uploads/2014/11/tgaoglogo.png
admin
2012-11-01 07:28:47
2014-03-04 12:44:04
AAPL Looks Ready Bounce & the Next Best Trade Ideas