It's that time again when volume dries up and prices rise into the new year. A lot of individuals are scrambling to prepare for the holidays, even though we had a year to prepare. The big money has already done most of their year end shuffling and will be taking it easy until January.
The market is overbought and sentiment readings are at extreme levels which in the past have been the start of large sell offs and even bear markets. While I am keeping a close eye for a top, there is not much we can do but stay long stocks and commodities until the market tips its hand and distribution selling is in control. The U.S. federal government is the only wild card going into year end that should be on traders' radars. They have been doing a great job boosting prices in the equities and commodities market, but can they continue to hold things up when the big money and the proverbial herd start unloading positions in 2011?
SP500 Holiday Grind – Daily Chart
This chart shows the slow and steady grind higher that we have seen in the S&P 500. I expect this to continue into 2011 The market in my opinion is on the verge of some serious selling so long positions should be small going forward.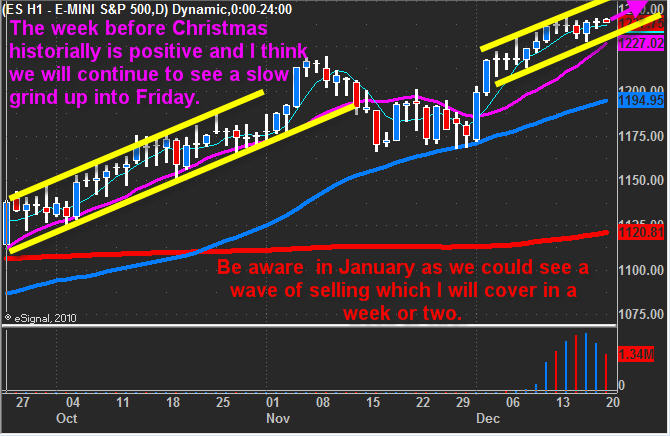 US Dollar On Pause For A Couple of Weeks
This 4 hour candle stick chart of the dollar shows price testing resistance (a previous high). I am expecting to see the U.S. Dollar trade sideways or possibly move closer to the previous high as we enter the new year. A sideways dollar will allow the equity and commodity markets to rise.
Weekend Conclusion:
In short, I think we could see an intraday pullback early this week and then a grind higher. The pullback would shake out some weak positions before the holiday march higher takes place. I typically don't trade much going into the holiday season and new year. I may put on a small long position if I like what I see forming on the charts, but that would likely be about it. Light volume can be very dangerous to trade because sharp price spikes up or down can occur in a blink of an eye catching traders off guard.
If you would like to learn more about trading while getting trade alerts for ETFs join my newsletter at: http://www.TheGoldAndOilGuy.com
Chris Vermeulen
http://www.thegoldandoilguy.com/wp-content/uploads/2014/11/tgaoglogo.png
0
0
admin
http://www.thegoldandoilguy.com/wp-content/uploads/2014/11/tgaoglogo.png
admin
2010-12-19 23:50:05
2014-03-10 08:41:41
The Holiday Grind Is Here For 10 Days Only – Are You Ready?