Over the last couple of months I have started sharing some insights on the penny stock market. Those of you who follow me know I have been steering clear of the penny stock market since 2011. Back during bull market from 2009 – 2011 investing in these types of stocks was highly rewarding but I don't touch them during bear markets.
The second half of 2011 this pocket of the stock market collapsed and turned down. Unfortunately barely anyone watches this index so when it turned down in 2011 investors continued to hold onto their penny stocks and expected them to continue to rally with the broad market. But the rally never happened, or at least not yet.
This index is down 72% which is a tough drawdown to hold and not be concerned with but the good news is that it may be coming to an end.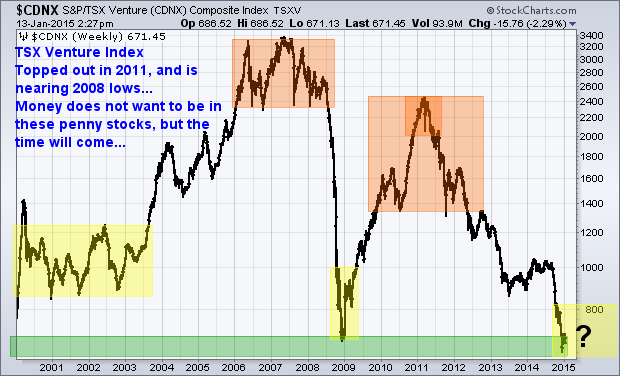 What has me intrigued is the fact that this index is testing its 2008 lows which is a great place for it to bottom. And why is this important you may be asking? Well, a rising index has the tendency to move 3 out of 4 stocks with it. And if you happen to fine which sector or hidden gem stocks have the most potential business growth you stand to make a lot of money.
For example the biotech sector was dormant for nearly 10 years from 2001 to 2011. Biotech's are up 370% on average since the 2011 low. And know that if a sector/index is up 370% you can bet there are a ton of stocks up 500%, 1000%, 4500% also.
What are Borate and this Rare Element That I like?
Borate is a chemical compound which uses the chemical element Boron. Boron is not a resource many people know and from my knowledge there are only two companies that produce it and they control roughly 80% of the market.
Borates are used in 500 products including some of the fastest growing areas like borosilicate glass (LCD screens), ceramics and porcelain enamels, agriculture, insecticides, fire retardants, and high-tech products like lithium batteries, and even medicines. For example an iPad uses 9 grams of Boron in the special Corning glass.
The price of Boron has rocketed higher in recent years with all the new uses it has. From 2009 to 2012 the price rallied from $250/t up over $700/ton.
How to Play It
The two big players in Boron are publicly traded company Rio Tinto (NYSE: RIO) and Turkey's state-owned Eti Maden AS. A position is Rio Tinto does not really give you much exposure as Boron is a small portion of the company's overall revenue.
The leaves only one other company, Erin Ventures (TSX Venture: EV). Its tiny, its a penny stock, but it has a ton of great things happening from what I have researched and from communication with their CFO.
This little company is a 100% owner of a massive Boron rich properly in Serbia. The PEA reports show low mining costs, extremely high grade boron, enough material to last 21 years with a 15 month payback which is insanely fast… They expect to have $97,000,000 per year in revenue once the property is setup and running.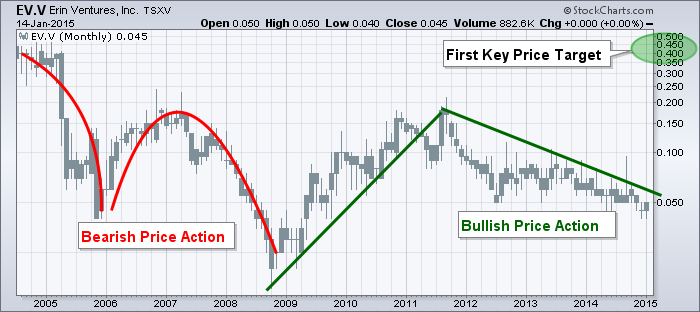 Conclusion:
I like the looks of the long term chart for Erin Ventures. The pattern overall is bullish but with the Toronto Venture Exchange having been in a bear market since 2011 it has pulled the share price down with it. When the venture stocks bottom which could be any time now, keep your eye on this company.
Not very often you find a commodity that only has 1-2 companies in the world that control a substance. It's almost a monopoly really. And with Erin Ventures being the only pure Boron stock which is 100% owner of a 21 year production deposit of higher grade Boron than the competitors I have to think this will be huge in due time.
Erin Venture is about to close a round of funding with their private placement for shares in the company so they can start their Boron project in Serbia. If I recall correctly they are looking for all investors especially small ones as they want quality investors holding shares. If you want to be a part of this placement call: Blake Fallis 1-250-384-1999 is their CFO who can provide more info about the company and private placement if you are interested.
Chris Vermeulen – www.TheGoldAndOilGuy.com
Disclaimer: I do not own shares of Rio Tinto or Erin Ventures and I was not paid to mention them in my article.
https://thegoldandoilguy.com/wp-content/uploads/2015/01/erin.png
312
700
admin
http://www.thegoldandoilguy.com/wp-content/uploads/2014/11/tgaoglogo.png
admin
2015-01-15 20:54:21
2015-02-19 18:24:07
Is Borate a Actor or Rare Earth Element Opportunity?