Tired Of Gold & Silver Mining Stocks? What about Magnesite!
Over the recent months I have shared my precious metals, miners and commodity sector forecasts. Also I have shared some of the hidden gem stocks which I am starting to accumulate positions in as the resource market start to carve out a bottom.
These stocks each have a very unique opportunity and provide slightly different exposure to my portfolio. These stocks cover gold, silver, graphene, technology, oil, and today I want to share another company that will produce magnesite, which I think has tremendous upside potential that trumps most other opportunities I have come across because the life expectancy of the mine is 100+ years, its location, the high grade of their mineral, and just as importantly their management team and vision.
If you have followed me for any length of time, then you know I like to keep things short and simple. Here is a detailed report by a third party talking about the company's story, and opportunity.

I don't need to get into the details as that is available in the report link above but let me recap the core points from the meeting I had with the MGX recently.
COMPANY KEY POINTS
Canadian resource company – resource bull market is near
100+ year mine life expectancy – potential to become huge operation
Advanced holistic extraction and processing of mineral
Extremely high grade Magnesite mineral – Demand top dollar for material
Magnesite: 75% lighter than steel, 33% lighter than aluminum – Rising Demand
China supplies 80% of production and its low grade, high shipping costs
MGX's location has lower shipping costs with consistent high grade Magnesite
Company could start small producing in near term – generate cash flow/profits
Management Team – Jared Lazerson has incredible passion, energy and vision
Company is outside of the gold/silver sector
MGX JARED LAZERSON INTERVIEW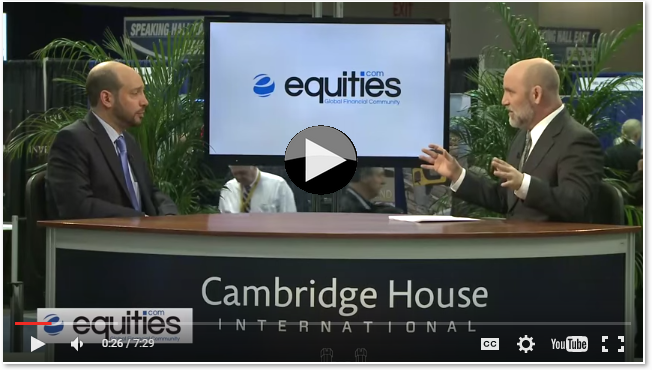 MGX MINERALS INC. SHARE PRICE ANALYSIS
Let take a look at the share price and see where price and volume are telling us. This in a fairly new company and its name and shares remain unknown by the masses at this point. Hence the reason I call it hidden gem.
There are several great things about investing in stocks that are trading at all-time new highs. Main reason is that there isn't any overhead resistance in share price from previous owners looking to sell. In fact, buying stocks at new highs is a well-known strategy investor's use.
The type of price action that typically happens with stocks like this, are small pauses and pullbacks as investor's become satisfied with gains and slowly sell a few shares to lock in gains. It's a trickle of selling vs heavy volume distribution which takes place in beaten up stock prices with unhappy shareholders.
If you look at the chart below you will notice at the bottom the green volume spikes. I call these "Get Ready Spikes". It means some big investors are getting positioned for more upside potential.
Also, notice the bullish cup and handle pattern. These are actually one of the strongest chart patterns that I know of. Many times I see 3-5X the move in share price based on the depth of the pattern from the low to the high for the first initial major rally. This means we should see $0.925 cents a share in the not so distant future.
See live Quote/Chart: http://www.stockhouse.com/companies/quote/c.xmg/mgx-minerals-inc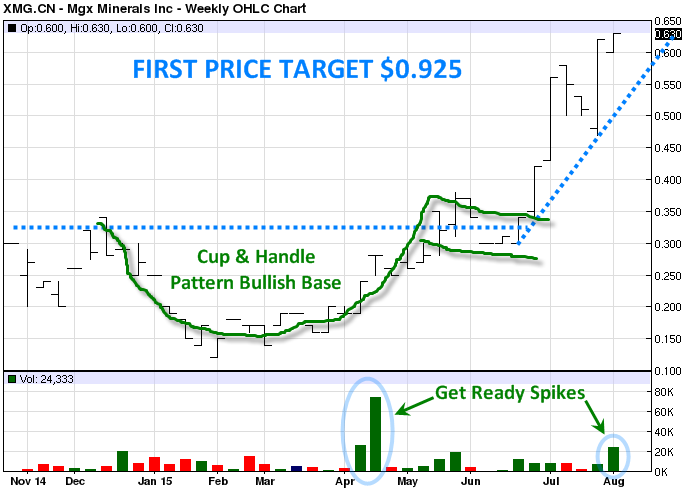 I should warn that there are drawbacks to trading these small unknown stocks. Because they are unknown they lack volume/liquidity/market depth. What does that mean?  It means it is hard to get any sizable position quickly. I recently bought shares above the 60 cent level. The way I go about things is to buy some at market price, then place another buy order where I am willing to pay for the rest and hope I get filled over the next week or two.
Shares like this can move quickly because there are not many sellers so once the ask price is bought up price jumps up to the next level where there is a seller.
MY HIDDEN GEM RESOURCE PLAY CONCLUSION:
Technical analysis and trading is my passion and getting involved in new companies which have a quality product, proven management, and have the right timing for entering a market which is close to starting a new bull market is one of the most exciting types of long term investments to watch unfold.
Don't get me wrong, investments are just that… long term, and take months if not years to unfold, but if you are positioned with the right company at the right time returns can be life changing 3-5 years down the road.
This company could be a world class open-pit mine for Magnesite because of its high-grade mineral, location and potentially lowest processing and shipping costs. This is not a 2-3 year mine that will be out of material like most gold and silver mines, this a 100+ year operation just getting started.
Get My Next Investment at: www.TheGoldAndOilGuy.com
Chris Vermeulen
Disclosure of Interest and Advisory Cautions: Nothing in this report should be construed as a solicitation to buy or sell any securities mentioned. Technical Traders Ltd., its owners and the author of this report are not registered broker-dealers or financial advisors. Before investing in any securities, you should consult with your financial advisor and a registered broker-dealer. Never make an investment based solely on what you read in an online or printed report, including this report, especially if the investment involves a small, thinly-traded company that isn't well known. Technical Traders Ltd. and the author of this report has been paid by MGX Minerals Inc. In addition, the author owns shares of MGX Minerals Inc. and would also benefit from volume and price appreciation of its stock. The information provided here within should not be construed as a financial analysis but rather as an advertisement. The author's views and opinions regarding the companies featured in reports are his own views and are based on information that he has researched independently and has received, which the author assumes to be reliable. Technical Traders Ltd. and the author of this report do not guarantee the accuracy, completeness, or usefulness of any content of this report, nor its fitness for any particular purpose. Lastly, the author does not guarantee that any of the companies mentioned in the reports will perform as expected, and any comparisons made to other companies may not be valid or come into effect.
https://thegoldandoilguy.com/wp-content/uploads/2015/08/gem.png
232
307
admin
http://www.thegoldandoilguy.com/wp-content/uploads/2014/11/tgaoglogo.png
admin
2015-08-11 14:39:46
2015-08-11 14:39:46
Tired Of Gold & Silver Mining Stocks? What about Magnesite!