Copper ETFs and Copper Stocks About To Move Big
With 2012 now behind us it's time to start looking for some new long term investments which have big potential gains in the new year. Copper is one metal that has caught my eye.
The long term monthly chart of the copper ETF JJC shows a potential cup and handle pattern accompanied with bullish volume characteristics. Last year copper traded sideways in a narrowing range. This type of price action tends to bore traders and investors forcing them to look elsewhere for new to trades. The saying is "If the market doesn't shake you out, it will wait you out"
You can see on the monthly chart that the interest in this commodity diminished. You can tell because of the sideways movement and declining volume. I like to focus on investments which are out of favor but are showing signs of another big trend starting. getting on the train before it leaves the station can make for a fun ride. I do post some of my trading ideas with my charts updating live each day here: https://stockcharts.com/public/1992897
Take a look at the charts, analysis and my best copper stock setup below:
JJC – Copper Total Return ETN Profile
Description: The index includes the contract in the Dow Jones-UBS Commodity Index Total Return that relates to a single commodity, copper (currently the Copper High Grade futures contract traded on the COMEX).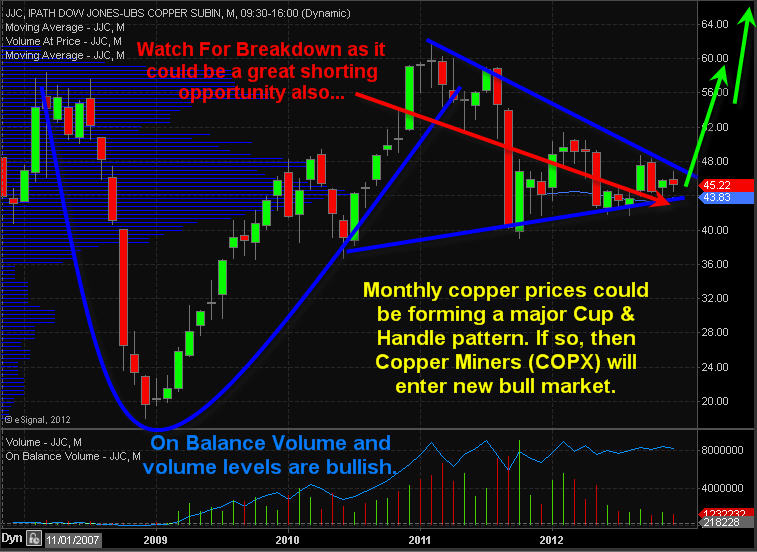 Copper Miner Stocks ETF COPX – Weekly Chart
This ETF holds a basket of copper mining stocks which is showing signs of a new trend starting. Take a look at the top holdings stocks and fund breakdown to get a feel for the exposure it provides.
COPX Top Ten Holdings
Inmet Mining Corporation (IEMMF): 6.62%
KGHM Polska Miedz SA (KGH): 5.24%
Xstrata PLC (XTA): 5.04%
Grupo Mexico, S.A.B. de C.V. (GMEXICO B): 4.89%
Jiangxi Copper Company Limited H Shares (00358): 4.83%
HudBay Minerals, Inc. (HBM): 4.82%
Antofagasta PLC (ANTO): 4.78%
Southern Copper Corporation (SCCO): 4.75%
Lundin Mining Corp (LUNMF): 4.55%
Kazakhmys PLC (KAZ): 4.55%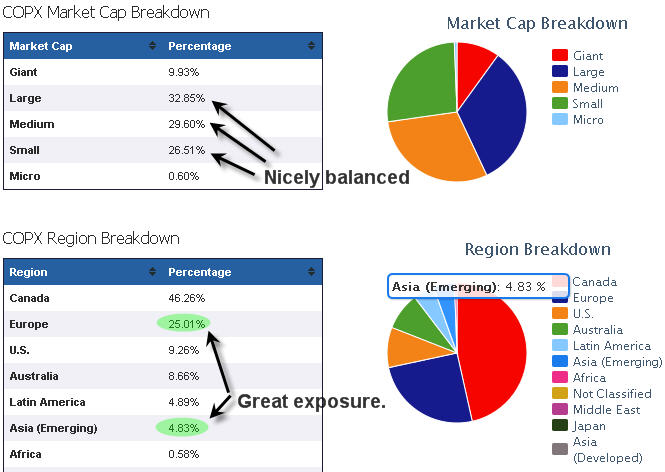 Best Copper Stock Setup – LUNMF
After reviewing the main holdings in this fund I noticed one stock that looks ready to start a new bull market. Lundin Mining. shares look to be building a Stage 1 base and could break out and start to rally any week. Keep in mind 3/4 stocks move with the broad market so we do want the major indexes to find a bottom or at least trade sideways if we want copper stocks to start their run.
Copper Futures, ETF and Stock Trading Conclusion:
Copper has lost its shine over the past 12 months but could start to make headline news in the near future. I like both COPX and LUNMF if we see further strength. If you would like to get more of these trading and investing ideas and alerts be sure to join my newsletter at: http://www.TheGoldAndOilGuy.com
Chris Vermeulen
Disclaimer:
I currently do not own a position in these investment but plan on buying them in the near future. This material should not be considered investment advice. Chris Vermeulen is not a registered investment advisor. Under no circumstances should any content from this website, article, video, seminar or email from Chris Vermeulen (TheGoldAndOilGuy.com) be used or interpreted as a recommendation to buy or sell any type of security or commodity contract. This material is not a solicitation for a trading approach to financial markets. Any investment decisions must in all cases be made by the reader or by his or her registered investment advisor. This information is for educational purposes only.
http://www.thegoldandoilguy.com/wp-content/uploads/2014/11/tgaoglogo.png
0
0
admin
http://www.thegoldandoilguy.com/wp-content/uploads/2014/11/tgaoglogo.png
admin
2012-12-31 09:55:32
2014-03-06 12:23:34
Copper ETFs and Copper Stocks About To Move Big