In July I showed talked about the Russell 2K index and how it was underperforming the broad market. I went on to explain what it likely meant was in store for the US stock market this fall. The outlook was negative, just in case you were wondering…
This week I want to talk about two different sectors that have often lead the broad market in rallies and corrections over the years. These sectors have underperformed the broad market much like that of small cap stocks, and this does not bode well for investors going into fall.
In the analysis below I use Bollinger bands and trendlines. Using only these tools keeps the charts clean and easy to understand. In short, once a trenline has been broken that is the first early warning that a trend may be coming to an end. The second is the break of a Bollinger band.
A combination of these can be taken as a trend reversal and likely the start of a multi week or month correction. This will depend on the chart time frame you are reviewing though. I use a similar method to identify trends with my automated futures trading system.
INTERNET INDEX FUND ANALYSIS
SOCIAL MEDIA INDEX FUND ANALYSIS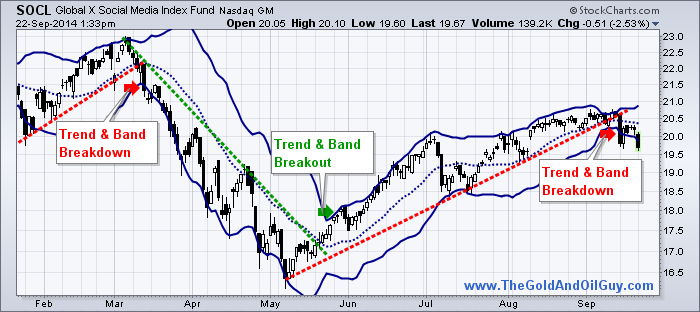 If you are wondering what exactly these two charts are pointing to… let me share my outlook.
Because we have seen the support trend lines broken to the downside this month, and the fact that price has pushed more than 2 standard deviations from its norm, the odds favor more downside is to come.
From years of experience trading price patterns and breakouts I know that when price breaks to the downs side and triggers fear among its investors it is typically your best time to sell short so you can profit from the falling prices. Fear is the most powerful force in the stock market and it must be traded much differently than when prices are rising.
Although I feel the broad market is still within its uptrend, these two underperforming sectors may just continue to sell lower. Obviously once the broad market rolls over, these sectors should fall even faster to the downside but until then, they could chop around and grind their way down.
Like My Simple Analysis & Tips? Join My Free Newsletter at www.GoldAndOilGuy.com
Want My Trades Automatically Trade for You? www.AlgoTrades.net
Chris Vermeulen
https://thegoldandoilguy.com/wp-content/uploads/2014/06/etf-trading-newsletter-alert.jpg
121
144
admin
http://www.thegoldandoilguy.com/wp-content/uploads/2014/11/tgaoglogo.png
admin
2014-09-22 18:38:22
2014-09-22 18:38:22
Leading Sectors Breaking Down – Internet & Social Stocks